Humboldt State University is excited to announce that it will host the first-ever Fall Commencement ceremony to recognize the achievements of HSU's Fall 2021 graduates. There will be a single ceremony for graduates in all Colleges on Friday, Dec. 17 at 3 p.m. in Lumberjack Arena.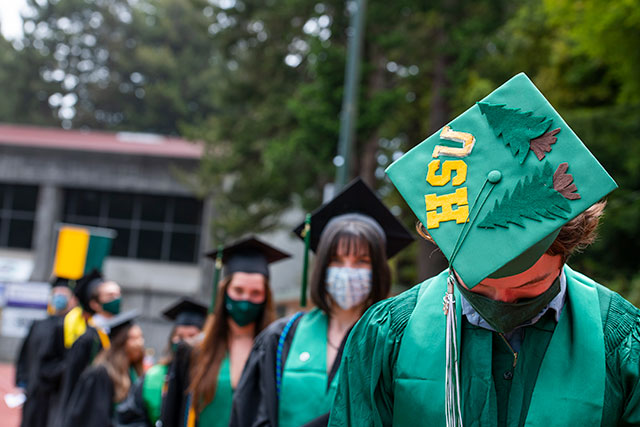 The events will be livestreamed, and links to the livestream will be available on the Commencement website and HSU homepage. The colleges will be holding a joint reception for faculty, graduates, and their families following the ceremony in the West Gym.
Friday, December 17
3:00 p.m.—All Colleges Ceremony
College of Arts, Humanities & Social Sciences; College of Natural Resources & Sciences; and College of Professional Studies will be in one combined ceremony.
Proof of COVID-19 vaccination or a negative test result will be required for any visitor who is over the age of 12 accessing campus events unless they are staff, faculty, or a student.
PLEASE NOTE: students and employees are not required to show proof of vaccination or negative test results because under University requirements, they have been either fully vaccinated or, if granted an exemption, are getting tested regularly for COVID-19.
Attendees to events (indoors and outdoors) will have the option of showing:
• HSU staff, faculty, or student ID
• Physical CDC Vaccination Card for COVID-19 or a photo/screenshot of your vaccination card
• State of California Digital COVID-19 Vaccination Record
• A printout from any state health department or physician's office with your vaccination information stated clearly
• Any photo/screenshot that shows the date of the test result and the date the test was taken or a printout of an official email from a lab with the test results and testing date clearly printed
Regardless of vaccination status or test status, all attendees age 2 and older must wear a mask at all times while on campus except in designated dining areas while actively eating or drinking. Learn more about the requirement.
More than 780 students in the class of 2021 have earned degrees and credentials. About 170 graduates have signed up to participate in the in-person commencement ceremonies.
"Commencement is our favorite day of the year—we love getting to celebrate with students and their families, and seeing the pride they have for this huge achievement," says Kristen Stegeman-Gould, HSU Director of Marketing and Commencement Co-Coordinator. "This year, we're happy to provide graduates an opportunity to walk in a ceremony that's closer to their graduation date."
Humboldt State's first graduation event took place at Arcata's Minor Theatre in May 1915, with 15 women receiving teaching certificates.
Following the ceremony, photos of Commencement will be posted here.
More Commencement Information
Forever Humboldt: New graduates are encouraged to register for FREE with Forever Humboldt, the official association for the HSU community. Registered alumni members receive ongoing HSU Library access, special discounts at local businesses, access to HSU career resources, special invites to Forever Humboldt events, and more. Get more information on the Forever Humboldt website.
Get Social with #humboldtstate: Graduates, their friends, and families are encouraged to share their photos on social media by using the #humboldtstate hashtag.
Graduation Pledge: Students are encouraged to take the Graduation Pledge of Social and Environmental Responsibility, a Commencement tradition that began at HSU in 1987 and has been used by more than 100 universities worldwide.
Find more details about the 2021 Commencement on the Commencement website.