"Far Less", written by Kathy Wollenber and published by Humboldt State University Press, has been honored by the Nautilus Book Awards as a "Better Book for a Better World."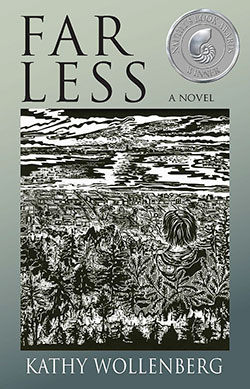 The Nautilus Book Awards spotlight works that radiate hope, offer enriching perspectives, and point us in the direction of a more positive future, individually and collectively. The novel has been awarded two silver medals; one in the "Young Adult Fiction" category, and the other in the "Self-Published/Small Press" category. Set within Arcata's Community Forest, "Far Less" is an insightful story that captures the struggle of a homeless teen as he tries to overcome the reality of his situation.
"I am thrilled that Far Less and Humboldt University Press are receiving these Nautilus awards," Wollenberg says. "My hope is that this recognition will shine light on 'Far Less' and create compassion for the circumstances of houseless folks and teens in particular."
"Humboldt State University Press is overjoyed that Kathy Wollenberg's beautiful book 'Far Less' has been recognized by such a prestigious organization as the Nautilus Book Awards. Nautilus does such important work to recognize that fiction of the highest literary merit can be delivered with empathy, humanity, and social consciousness. We are so honored to join the Nautilus family of award-winning literature and to have Kathy's gripping narrative acknowledged as one of those books that will make us better people and the world a better place to live," says Kyle Morgan, publisher, Humboldt State University Press.
Nautilus Book Awards winners are highly esteemed authors and publishers from across the country, and from over 20 nations around the world. Other notable Nautilus Book Award winning authors include Barbara Kingsolver, Louise Erdrich, Deepak Chopra, M.D., Eckhart Tolle, Desmond Tutu, and His Holiness the Dalai Lama.
See all 2020 Nautilus Book Awards Silver Winners here.
This marks the second award "Far Less" has been honored with this year. A "Coming of Age" piece, "Far Less" is a compelling read for both teenagers and adults. "Far Less" is available on Amazon, Barnes & Noble, IndieBound, and BookShop.org.
About Nautilus Book Awards
The Nautilus Awards represent Better Books for a Better World. Over the past 21 years, this unique book awards program has continued to gain prestige with authors and publishers around the world as it seeks, recognizes, honors, celebrates and promotes print books that inspire and connect our lives as individuals, families, communities, and global citizens. They recognize exceptional literary contributions to spiritual growth, green values and sustainability, high-level wellness, responsible leadership and positive social change and social justice, as well as to the worlds of art, creativity and inspirational reading for children, teens and young adults.
About "Far Less"
Homeless, 17-year-old Jesse lives in the Redwood forest behind Humboldt County's local university with his drug-addicted mom and six-year-old sister. He finds solace by recklessly climbing the towering redwoods surrounding their hidden forest camp, observing everything while escaping his reality on the ground. If it weren't for his sister, he probably would have abandoned his mom and their forest life years ago. Jesse's greatest fear is that one of his high school peers will discover his circumstances, and despite his dogged efforts, one girl finds out the truth.
About Kathy Wollenberg
Living in Northern California, Wollenberg holds a bachelor's degree in Geology from Humboldt State University. Her background in mapping for the Forest Service and running geology field camps for HSU has given her an appreciation for detail and accuracy as well as an eye for description of landscape and the setting of a story. She is inspired to write pieces that blend her knowledge of science with her love for fiction. She was the recipient of a first-place prize from the College of the Redwoods annual Poets and Writers poetry contest and has also published an article about homelessness in the Tri City Weekly. "Far Less" is a Finalist in National 2020 Foreword INDIES Book of the Year Awards and has been honored with two Nautilus Book Awards. "Far Less" is Wollenberg's debut novel, and is now available on Amazon, Barnes & Noble, IndieBound, and BookShop.org.
About Humboldt State University Press
Humboldt State University Press publishes high-quality scholarly, intellectual, and creative works by or in support of our campus community. The press supports the HSU mission to improve the human condition and our environment by promoting understanding of social, economic, and environmental issues. For more information, contact HSU Press at hsupress@humboldt.edu.