Image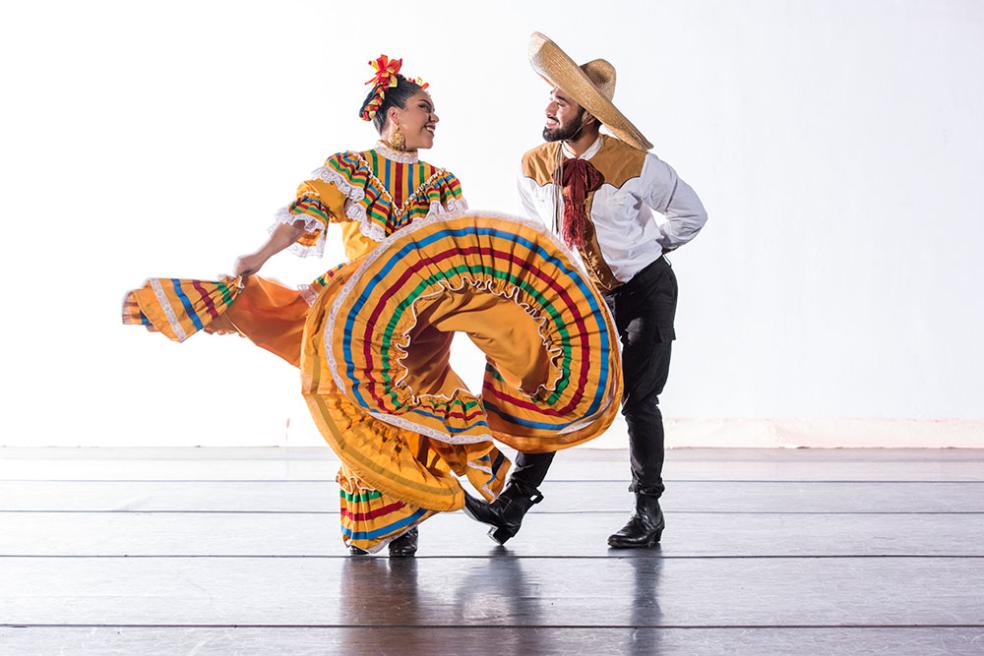 Cal Poly Humboldt presents Fiesta Folklórica on Friday, March 3 and Saturday, March 4 at 7 p.m,. and Sunday, March 5 at 2 p.m. in Gist Hall Theatre.
This collaborative concert of dance and music from the Department of Dance, Music, and Theatre is directed by emeritus faculty and Ballet Folklórico de Humboldt founding director Jeff O'Connor, instructor Elizabeth Rivera, Mariachi de Humboldt director Jennifer Trowbridge, and the student organizations of Ballet Folklórico de Humboldt and Danza Azteca de Humboldt.
Ballet Folklórico de Humboldt formed in 1994 as a student organization and presents various dances from the states of Mexico, beginning with the southern state of Chiapas under the direction of local business owner Jackie Silva. The colorful floral dresses enhance the movement of the dances: Las Chiapanecas, La Tortuga, and El Rascapetate. 
The state of Veracruz is being presented under the direction of Carana Sedano, student and president of the Ballet Folklórico de Humboldt, including La Bruja, a hauntingly ethereal dance, Balaju, with fast and challenging footwork, and La Bamba, in which the dancers tie a bow with their feet as a sign of love. 
From the state of Nuevo León, Jeff O'Connor directs and choreographs the lively chotis and polka Claudia, La Capsula, and Blanca Nelly. 
The concert will end with the dances of Jalisco, directed by Elizabeth Rivera, who teaches the Mexican Folklórico dance class and the Danza Azteca dance class at Cal Poly Humboldt. These Jalisco dances include Las Alazanas, El Son de la Negra, and the traditional dance of Jalisco, Jarabe Tapatio.
Humboldt began to offer a class in Danza Azteca in 2021, taught by Elizabeth Rivera and assisted by Frank Cortes. The concert opens with a demonstration of the elements of a Danza Azteca Ceremony, invoking the sights and sounds of Tenochtilán. The colorful feathers and regalia represent the movement and culture of present-day Danza Azteca.
Under the direction of Jennifer Trowbridge, assisted by Norberto Angón, who comes from a mariachi family, Mariachi de Humboldt will play music interspersed throughout the concert. The group was formed in 1995 and after a 21-year hiatus, Mariachi de Humboldt was relaunched in 2019 by instructor Jennifer Trowbridge, community member Norberto Angón, and student Nicholas De Anda, supported by administrators Fernando Paz and Rosamel Benavides-Garb. The group shares and represents many cultural traditions and talents. The performance will include mariachi favorites including Amor Eterno, Volver Volver, La Llorona, Hermoso Cariño, Los Laureles, and El Rey.
At Cal Poly Humboldt, a Hispanic Serving Institution, Ballet Folklórico de Humboldt, Danza Azteca de Humboldt, and Mariachi de Humboldt serve as more than just dance and music education for the students. For many students, learning traditional Mexican dance and music is a way to connect to their family heritage. Students share that their involvement in the dance and music program is a source of pride for their family. 
Concert tickets are $10 General, $5 Children, and FREE for Cal Poly Humboldt students with ID. Tickets may be purchased at the door or in advance at centerarts.humboldt.edu. The wearing of face masks encouraged.