Humboldt State University First Street Gallery presents Forest Invisible, a solo exhibition by photographer Young Suh, on display from Friday, Oct. 4, through Sunday, Nov. 3. The exhibition will feature photographs that examine the tradition of landscape as a subject in art as well as our culture's dissociative relationship to nature.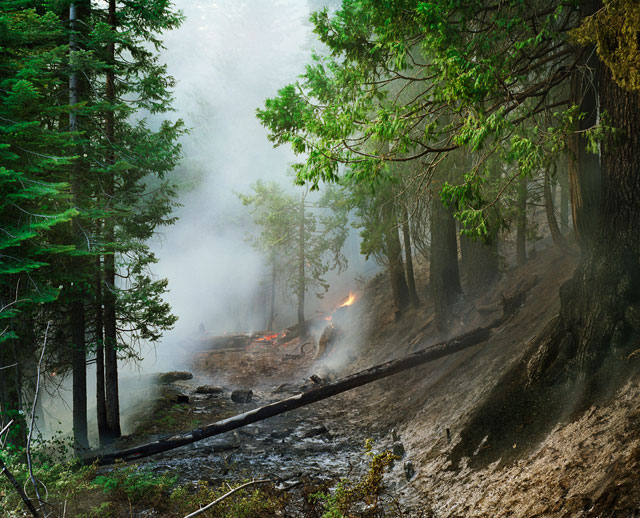 Suh's photographs examine forest fires as they alter the appearance of the landscape. Exploring the relationship between wilderness and human intervention, he depicts aspects of life in the midst of fires, from unconcerned civilians to working fire crews. The viewer experiences seemingly tranquil imagery that masks the underlying violent threat of fire
Suh states that, "Forest Invisible is a narrative of human emotions in nature—our desire, projections and failure. A narrative of nature is always a struggle between two sides: the one who wants to contain the other, and the one that proves the other wrong. But this struggle has been for so long that it is more like a dance than a war. It is an aesthetic experience." Young Suh has been making photographs on the subject of nature and human desire to control her for the last decade.
Young Suh will give an artist talk about his photography at Humboldt State University. He will talk about his latest book, "Forest Invisible" and the current exhibition of the same title at the HSU First Street Gallery as well as his past and current works about living in nature. The talk is free and open to the public and will take place on Friday, Oct. 11, at 4:30 p.m. in the Great Hall, 2nd floor above the College Creek Marketplace, corner of Harpst and Roswell, Humboldt State University campus. For parking information, visit www.humboldt.edu/parking.
A native of South Korea, Suh attended Pratt Institute in New York where he received his BFA in Photography in 1998. Suh went on to receive a Masters of Fine Art in Studio Art at the School of the Museum of Fine Arts in Boston in 2001. His work has since been featured in galleries and museums nationwide. Suh is currently an Associate Professor of Photography at University of California, Davis.
A reception for the artist at HSU First Street Gallery will be held Saturday, Oct. 5 from 6 to 9 p.m. during Eureka's monthly Arts Alive! event. The gallery is open Tuesday through Sunday from 12 to 5 p.m. and is located at 422 First Street Eureka, California. Admission is free. Those planning group tours are encouraged to call ahead. For more information call 707-443-6363. To learn more, go to http://www.humboldt.edu/first/exhibition.html.