On Mondays and Tuesdays, Jacob Pressey ('10, Environmental Science) tends his crops in Alton and McKinleyville. On the other five days, he transforms his labor into liquid refreshment, and serves it to a growing clientele.
"I like to call it beer farming," said Pressey, who named his operation Regeneration Brewery & Farm. "From an environmental science point of view, it looks at issues with the focus on sustainability. From a creative standpoint, there's a more direct connection with the product and market."
Image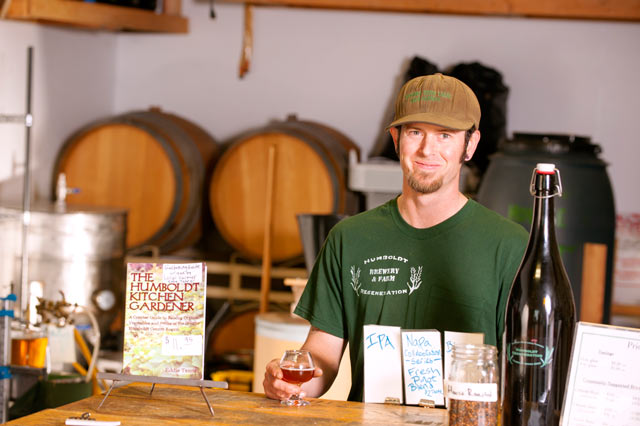 Pressey is applying his education, which included an emphasis on soils and agriculture, in a process that takes his beer from seed to sip. He grows his own hops and barley and malts them at his brew house before transforming the mixture into a variety of Belgium-style ales.
Image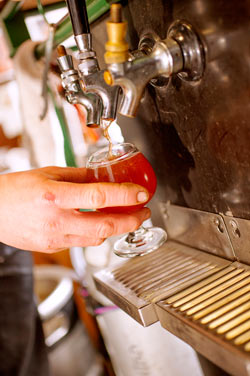 Driving down Central Avenue in McKinleyville, an alert motorist might notice the sign that says, "Beer to Go." After turning into the parking lot, more homemade signs direct patrons to a re-tooled storage bay in back of the blue building.
A visit to Pressey's brew house is an education unto itself. Out front are welded-together sections of half-barrels, with duct-taped plumbing and valves, and a converted barbecue grill that serves as a roaster. Keeping with the sustainable theme, a solar collector attached to the south-facing side helps power the apparatus.
After squeezing past the exterior operation, visitors find the malting table, a floor-based model built by Pressey. The only shiny, factory-produced equipment are kettles where the mash is heated to a variety of temperatures that alter the flavor.
According to his website www.humboldtregeneration.com, Pressey says Regeneration Brewery and Farm's mission is to "raise awareness about the importance of re-localization and build a healthy community. We aim to serve as a small Humboldt County business directly supporting our local food economy."
The "we" right now is Pressey, and his dog, Dolce, a Bernese mountain dog that has recently begun helping out by pulling carts on the farm. As a one-man, one-dog operation, Pressey keeps busy scrambling between farm and brewery, where he also is host and server from 11 a.m. to 7 p.m., Wednesday through Sunday.
Image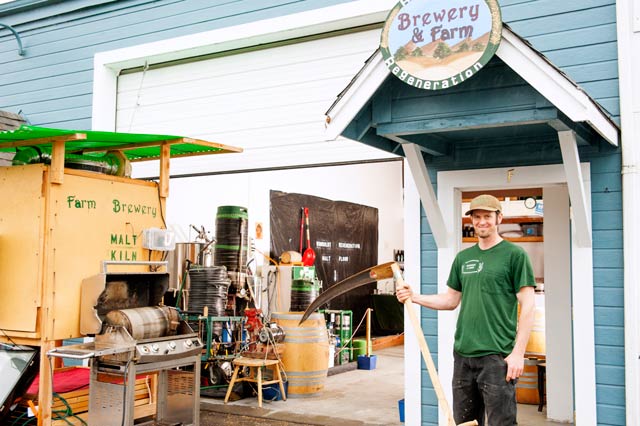 On any given day, Pressey maintains three beers on tap. He actually uses about 60 different recipes, however, contributing to his "beer of the week" selection.
Common brews include "Blasphemy Ale," which blends beer in a process usually shunned by microbreweries, and "Belgium Biscuit Brew," a lighter, wheat-based ale. Patrons might also sample "Alton Tea," "Whiskey Chip Brown," and "I Can't Put My Finger On It."
Modeled after community supported agriculture (CSA) programs, Pressey has established what he calls a CSB – substituting the agriculture for beer. Consumers who sign up for his program are actually purchasing a share, which takes the form of a half-gallon growler filled with the beer of the week.
On his three-acre farm in Alton and a recently leased plot in McKinleyville, Pressey uses old-school methods to manage his crops. He uses an early 1900's era scythe to reap the grain, and then separates it from the stalk with a pedal-powered thresher.
For the first 18 months Pressey has been operating Regeneration Brewery & Farm, he has maintained a tiny enterprise that produces only a couple of barrels of beer a week. That's fine for now, he says, but he likes the idea of growing his sustainable business.
"The end goal would be establishing a larger brewery and farm in one location," Pressey said. "We could give tours and sell other local products, and have a real beer garden.
"What I have now is pretty small scale, but I've been thinking about how it could grow. As the demand grows, it would be great to expand, but at the same time keep the process is sustainable."