Image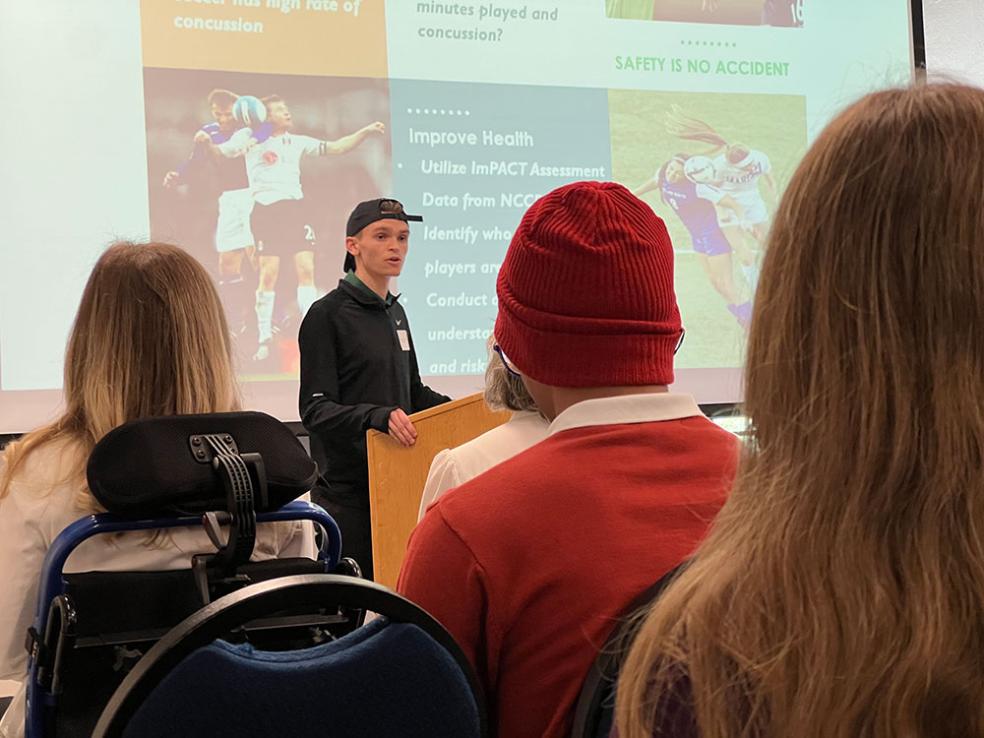 As a person with autism spectrum disorder (ASD), Kinesiology graduate student Peggy Scarborough came across a grim statistic; accidental drownings accounted for 91% of deaths for kids 14 and younger with ASD between 2009-2011, according to the National Autism Association. Her findings inspired her to design an adapted aquatics program and compile data on its effectiveness for her Master's thesis.
Scarborough presented her research along with 14 other Cal Poly Humboldt graduate students at the campus' Grad Slam on March 30. The competition gives graduate students three minutes and one PowerPoint slide to present their research and communicate its significance to a lay audience. 
Graduate students from all three colleges—the College of Professional Studies, College of Natural Resources, and the College of Arts, Social Sciences & Humanities—presented their research on topics such as energy technology and policy; concussions in soccer players; homework management for kids with ADHD; the impact of food systems; and factors that influence disability accommodations, among others. 
The audience and a panel of judges, which included deans from each college, helped select two winners—Scarborough and Sociology graduate student Daniela Tierra—to represent Humboldt at the third annual California State University Grad Slam competition hosted by San Diego State on May 5. The competition showcases graduate research from participating campuses. 
Tierra's project examined parental and community opposition to Critical Race Theory (CRT). 
After seeing a flurry of debates and heated conversations online, she was motivated to study CRT to understand what people thought it to be, and why they oppose it. Tierra's research revealed that opponents believe that teaching children CRT perpetuates racism. 
"Opponents believe white children would be made to feel guilty or shamed for their racial identity while also being made to feel responsible for the legacy of white supremacy," Tierra explains. "Comparatively, opponents were concerned that children of color would believe that they are perpetual victims and they were incapable of success if the legacy of oppression was taught."
Scarborough's thesis consists of developing an adapted aquatics program for children with ASD and analyzing its effectiveness. 
The lack of access to water safety instructors trained in adapted aquatics prevents many children with ASD in Humboldt County from participating in swim activities, she explains. 
"Through this adapted aquatics program, we have the opportunity to increase safety, skills, fitness, confidence, and inclusion, while decreasing drowning risks and removing social barriers for children with ASD living in Humboldt County," she says.
Participating in the Grad Slam has been fulfilling on many levels for both Scarborough and Tierra. 
For Tierra, summing up her thesis—which included more than a dozen interviews—in one slide proved both challenging and rewarding. "I am super proud of myself for being able to sum up so much research in such a short period of time and have people understand my central findings," says Tierra, who in addition to the Grad Slam competition, also presented her thesis research at the Pacific Sociological Association conference in Bellevue, Washington. "It's a really important topic, and to me, it's always been central to make my thesis easy to understand, especially for people outside of sociology and academia overall."
"The personal reward has been getting to talk about my project and to promote inclusive and adapted aquatics in Humboldt County," Scarborough adds. "One of the most exciting things about participating in the Grad Slam is getting to see all of the other research that is happening across the Cal Poly Humboldt campus from all of the various departments. I can't wait to see the projects presented during the CSU-wide competition."
The California State University Grad Slam on May 5 will be held virtually via Zoom from 10:30 a.m. to 2:30 p.m. The public is welcome to attend. Find additional details, including a Zoom link, here. Presentations are also available on the Humboldt Graduate Studies Instagram page @humboldtgradstudies. Both Tierra and Scarborough will present research at this year's IdeaFest, also on May 5.