Image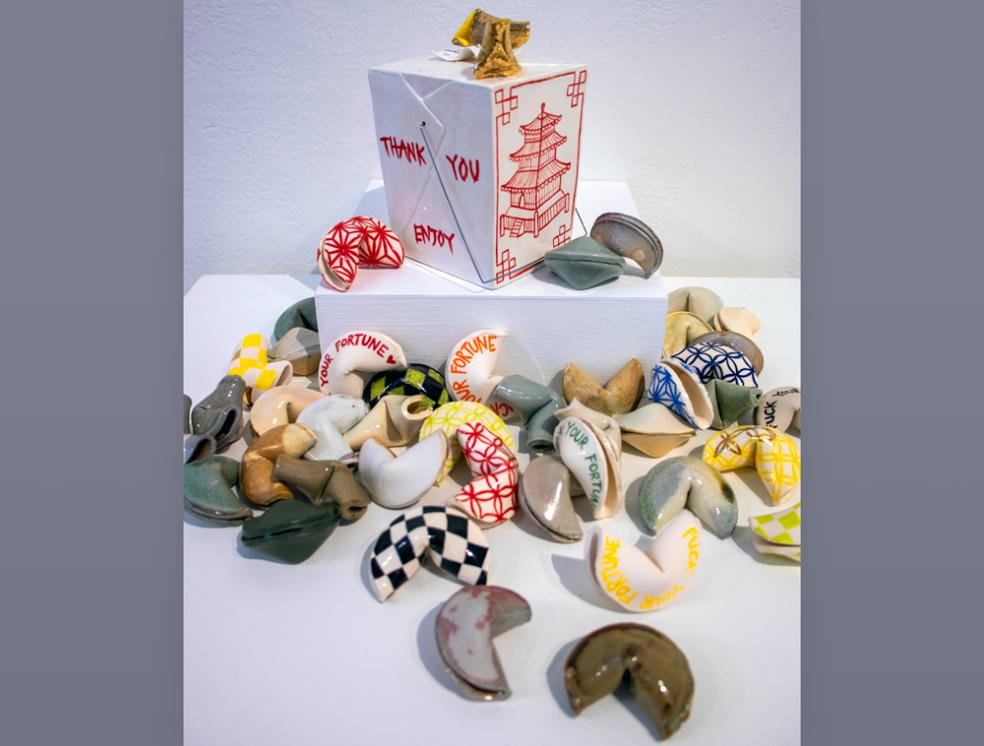 Two ongoing exhibits showcase this year's graduating Art students' works. The exhibitions showcase the achievements of Humboldt's graduating Art majors and minors, as well as graduating Bachelor of Fine Art majors.
The shows feature a broad range of forms and styles, reflecting students' diverse identities and influences in mediums including painting, ceramics, photography, and printmaking to jewelry, sculpture and media arts--within the Cal Poly Humboldt Department of Art & Film. 
The 2023 Cal Poly Humboldt Art Department Graduates Exhibition will continue through May 13th in the Reese Bullen Gallery on campus. It will be open immediately for its final showing following the College of Arts, Humanities and Social Sciences Commencement Ceremony.
The Reese Bullen Gallery, named in honor of a founding professor of the Department of Art & Film, was established in 1970. The gallery is located in the Cal Poly Humboldt Art Building, at the intersection of B Street and Laurel Drive, directly across from the Van Duzer Theatre. The gallery is open Wednesday/Thursday 12-6 p.m., Friday 11 a.m.-5 p.m., Saturday 11 a.m.-2 p.m.
Closed Sunday-Tuesday. Also open via appointment, please contact the Gallery Director at rbg@humboldt.edu, or call 707-826-3629. Admission is free and all are welcome. For more information about the gallery, please contact the gallery office at (707) 826- 5814 or rbg@humboldt.edu/bs228@humboldt.edu. For parking information, please visit humboldt.edu/parking.
Bachelor of Fine Art graduate works are on display in a collection titled Where's the Line? through Friday, May 12, at the Redwood Art Association, 603 F Street, Eureka.
Exhibiting Bachelor of Fine Arts students are: Catalina Carlton, Jolie Chaidez, Madeleine Fisher, Sean Grimes, Alisa Ibyadullin, Bridget Langholz, Melissa Lefebvre, Meghan Mcleod, Alyssa Ravenwood, Chelsea Sanderson, Justine Savedra, Melodie Sidhu, and Art Wardynski.