Local charities are set to take advantage of would-be trash as hundreds of students prepare to move out of campus residence halls and donate tons of household items, and office and school supplies.
Image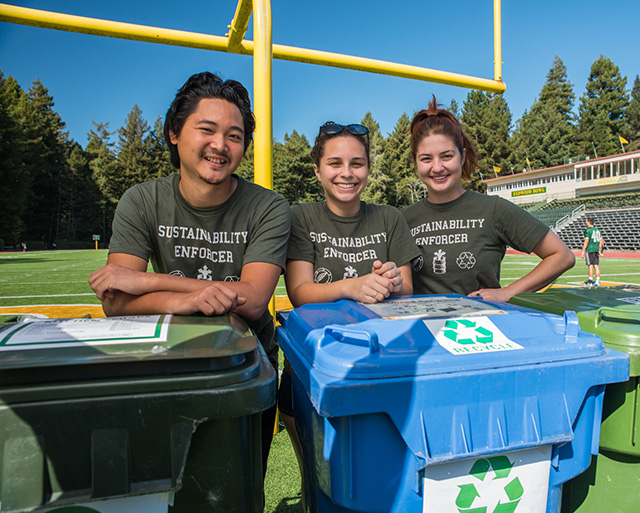 The annual Donation Dash takes place at Humboldt State University on Wednesday, May 10 to Saturday, May 13. A complete schedule is listed below. Last year's effort diverted 28,563 pounds of goods from local landfills.
Sorting stations will be set up at the College Creek, Creekview, and the Hill residence halls with volunteers helping divert reusable items from ending up in the landfill. Waste Reduction and Resource Awareness Program (WRRAP) employees will also be at each of the stations to help residents properly sort trash to minimize landfill-bound waste. Residents are encouraged to sort their trash into donations, recycling, compost, and trash prior to bringing it to the sorting station.
For students are moving out early, the Office of Sustainability will have donation collection toters in residence halls starting April 28. There will be toters for clothing donations, hangers, and miscellaneous (household items, school supplies, books, non-perishable food etc). See attached PDF for Donation Dash toter locations.
Donation Dash Keeps City Streets Clear
The City of Arcata reminds students that it's illegal to dump unwanted goods as they head out of town. "The problem has been getting worse every year, but it doesn't have to. If each of us take responsibility for our things, we can reuse and recycle more household items and create less garbage," says Mark André, Director of Arcata's Environmental Services Department.
Students unable to participate in the Donation Dash can download a free "Don't Dump and Run" guide that outlines ways to dispose of items properly and lists local thrift stores and recycling centers.
Donation Dash Tour
Donation Dash relies on its volunteers. Anyone interested in learning more about Donation Dash or the work WRRAP does can join the Donation Dash Tour. This guided tour will take the attendees to the College Creek sorting station and provide them with an opportunity to gain a hands-on experience in waste reduction. Participants will see how sorting stations operate and will have the chance to help sort waste. The tour takes place Friday, May 12, noon to 12:30 p.m. Meet in the Student Business Services building lobby. See attached PDF for tour details.
Donation Dash Hours
Wednesday, May 10: 9 a.m.-10 p.m.
Thursday, May 11: 9 a.m.-10 p.m.
Friday, May 12: 9 a.m.-12 a.m.
Saturday, May 13: 8 a.m.-1 p.m.
Donation Dash is a collaborative event organized by WRRAP, the Office of Sustainability, HSU Housing, and local charity sponsors, including Dream Quest, Angels of Hope, and The Sanctuary.