Image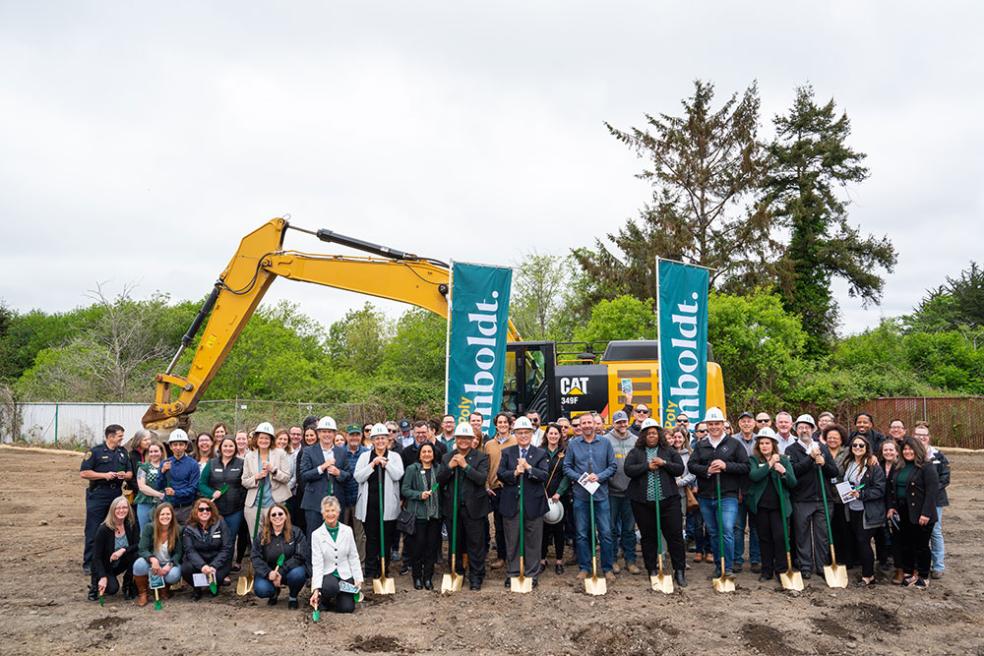 Cal Poly Humboldt officials along with leaders from the California State University, the community, and Associated Students led a groundbreaking event on May 12 to celebrate the largest student housing project in University history.
The event celebrates the construction, now underway, of Cal Poly Humboldt's Student Housing Project, a residence hall complex that will house nearly 1,000 students. The site is located at the former Craftsman Mall site, about .5 miles north of campus. The property was purchased by the Cal Poly Humboldt Foundation in 2020, and held as an investment so that it would be available when the University needed it.
The University anticipates the complex will be ready for occupancy in 2025, increasing University-owned student housing by nearly 50%. 
The $200 million project was made possible with one-time funding from the historic $458 million investment in the University's polytechnic effort approved by Governor Gavin Newsom and the state legislature in 2021. 
The project will be the first facility built as part of the University's polytechnic expansion, and the first of many new housing facilities that will be constructed over the next several years. To help meet the housing needs of students while the complex is being built, the University has provided temporary off-campus housing options.
The Student Housing Project complex will have apartment-style spaces in two buildings and be constructed with the highest safety standards in mind. It's designed to encourage students to build a community and, in turn, foster a sense of belonging.
Other features include green space, shared common areas, a cafe/market, hundreds of parking spaces, and EV charging stations. 
Reflecting Humboldt's long-standing commitment to environmental responsibility, the complex will have high-efficiency irrigation, water-efficient plumbing, energy-efficient lighting and appliances, and durable exterior building materials. Energy Star appliances and LED lighting and controls will be used throughout the project, and on-site solar energy production will be provided.
Student Housing Project at a Glance
Location: 0.5 miles from campus, near the intersection of St. Louis Rd and Hwy 101

Capacity: 964 students

Units: 241 

Housing type: two-, three-, and four-bedroom apartments

Size: 314,000 square feet

Features: common lounges, study and conference spaces, computer and TV rooms, café/market, on-site laundry, fitness center

Project site: 12.8 acres

Parking spaces: 328 

Cost: $200 million

Build/Design Team: Sundt Construction and SCB
Speakers Perspectives from the Groundbreaking Event

Cal Poly President Tom Jackson, Jr. 
As a residential campus, we are trying to create a place where students can thrive all the years they are in this community. Building a vibrant residence hall away from home may bring that sense of belonging that is critical to the success of all students who come to Cal Poly Humboldt. 
Larry L. Adamson, California State University Alumni Trustee
This project is the first of many steps for Cal Poly Humboldt to expand housing. It is also consistent with the CSU's broader, systemwide effort to ease the housing burden for our diverse and talented students. Supporting our students' success in this manner is an extension of the CSU's broader mission to provide a high-quality, affordable education to California students from all backgrounds. I have every confidence that this project will enable many more Cal Poly Humboldt graduates to join the 4 million CSU alumni who make meaningful contributions to our state, nation and world.

Jenny Harris, Cal Poly Humboldt Foundation Immediate Past Chair and Board Member
In 2020 when the foundation purchased this property, we saw the future potential to use this asset to support students and the campus community in some way. It was also our commitment to support and invest in the community we live in. So we found a way that this property could be held by the Foundation as an investment until the university needed it—which ended up being much sooner than we expected!
Karen Diemer, Arcata City Manager
Students are part of Arcata's interwoven growing community. Their impact cannot be understated. They add a vibrancy and character that defines and strengthens Arcata everyday. And many alumni stay here to raise families and build businesses . This project directly contributes to student success, and we know that when students succeed, our community thrives.
Sherie Cornish Gordon, Cal Poly Humboldt Vice President for Administration & Finance
This is an exciting time for Cal Poly Humboldt. This project is one of many transformative and historic endeavors to support our polytechnic transformation. Humboldt will be launching new facilities annually for many years to come. This planning effort has truly been a collaborative effort. I am grateful for the commitment of the team that guided the project through every step of the process. We look forward to welcoming students in 2025.
Mike Fisher, Cal Poly Humboldt Associate Vice President for Facilities Management 
This project is a great example of creative design and collaboration, delivering the best value to our University and students.
Juan Guerrero, President of Cal Poly Humboldt's Associated Students
Students have been asking for more housing and it brings me great joy to see this new residence hall complex come to fruition, along with the others that will be built over the coming years. More students will have access to quality, affordable housing and increased opportunity for higher education at Cal Poly Humboldt. 

RESOURCES
Downloadable fact sheet, groundbreaking ceremony program, renderings, and photos of the event.

RELATED LINKS
Polytechnic Infrastructure Plans
Student Housing Project website