Humboldt State University will soon update the name of its student union to the Gutswurrak Student Activities Center, adding the Wiyot word for "gathering place" to the facility's name. The naming recognizes the importance of the space as well as HSU's location on traditional Wiyot land.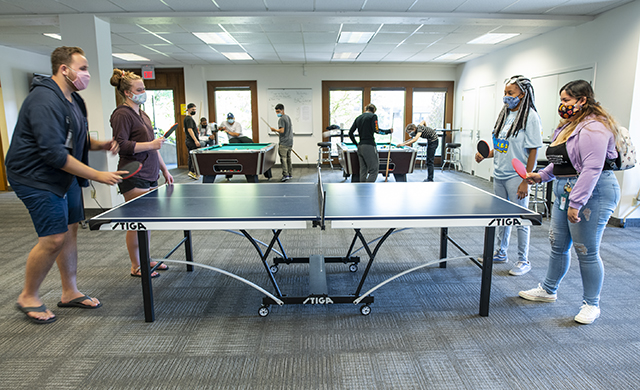 The name will be formally added and celebrated at an event early in the Spring 2022 semester.
Gutswurrak is pronounced "guts-wuh-dock". The name was suggested by members of the Wiyot Tribe led by Wiyot Tribal Chair Ted Hernandez.
A request for the honor of such a naming was made by students and others who are part of the SAC Advisory Committee to re-imagine the activities and services offered in the Gutswurrak. Three possible names were suggested. Numerous groups and individuals were involved in a consultative process on the name that was ultimately selected. They appreciated the meaning of the word - "gathering place" - and how it could be seen as reinforcing the idea of the facility as a place for the entire Lumberjack family.
Discussions about this type of naming go back at least two years, and students have shared many ideas. In Spring 2021, students participated in a survey about the naming of the Student Activities Center, and many students commented that it would be valuable to have a name that honors the land where HSU sits.
HSU is located on traditional Wiyot land. HSU, in partnership with the College of the Redwoods, has adopted a formal land acknowledgement, which reads: "We acknowledge that the land on which Humboldt State University is located is unceded territory of the Wiyot people who continue to live and thrive today. It is surrounded by the traditional, ancestral, and present homelands of several indigenous nations including the Hupa, Karuk, Mattole, Tolowa, Wailaki, and Yurok that make up Humboldt County."