Alec Howard knew next to nothing about gardening. As a Humboldt State student now, he's focused on sustainability, greening up campus with his "HSU"-shaped community garden and growing a community along the way.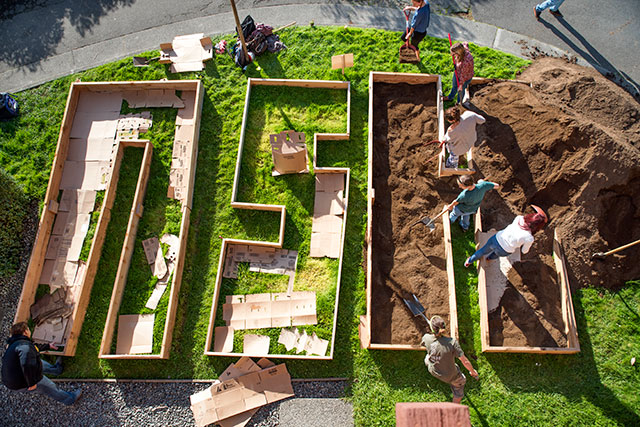 Alec Howard knew next to nothing about gardening. He grew up in the suburbs of Seattle and never grew his own food. He also didn't give the process of food production and the importance of local, sustainable products a second thought.
As a Humboldt State student now, Howard is focused on sustainability, greening up campus with his "HSU"-shaped community garden and growing a community along the way.
"These garden beds are a great example of what happens when communities come together. Dozens of people, community members, staff, and students, have all contributed the gardens," says Howard ('17, Environmental Science).
Community gardens are common at college campuses around the country—a trend connected to a growing mindfulness of food, according to Cordalie Benoit of the American Community Gardens Association.
"Community gardens have taken off in the last five to 10 years because people are becoming aware of where food comes from and the importance of nutritious food," she says.
One thing hasn't changed: the joy of gardening. "You can take a seed, put it in dirt, add water and sun and you end up with something delicious, or beautiful or both. The process is rewarding, addictive, and magical," she says.
But as Howard discovered last year when he spotted neglected garden on campus, gardening wasn't magical at first.
'Epic Battle' With Banana Slugs
Once tended by students, the plot in front of the Creekside Lounge was overgrown with weeds. Up to this point, he had made an effort to go vegan and to reduce waste. It was this patch of land that made him realize how little he knew about food.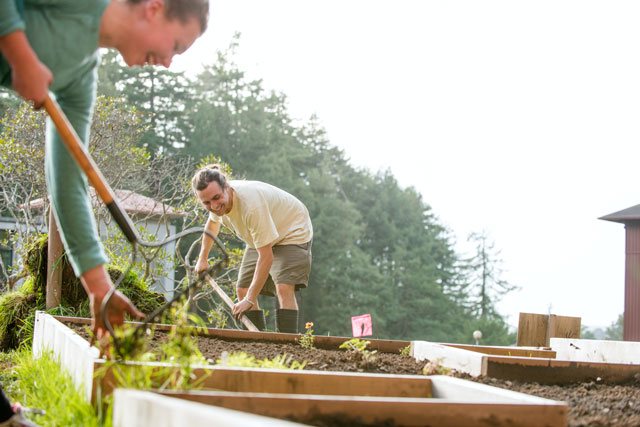 "I could design buildings and solve complex calculus and physics problems, but I couldn't even grow my own food. How did I go my whole life being so disconnected with something so fundamental?" he says.
So he gathered mulch from Campus Center for Appropriate Technology, and compost from the Waste-Reduction & Resource Awareness Program, and with the help of fellow students, Howard got to work.
They tilled soil and pulled weeds, and that's when they ran into the first hurdle: Banana slugs. What ensued was what he calls an "epic battle."
He tried everything to get rid of them without killing them (coffee grounds from Muddy Waters, crushed eggshells from the Jolly Giant Commons, etc.). He turned to the CCAT gardener, who suggested removing the hay Howard was using as mulch. That did the trick.
Everyone from his Political Science professor, Kathleen Lee, to Bayside Park Farm donated starts, and students provided seedlings they had bought from the farmer's market. Eventually, they grew potatoes, green onion, cilantro, strawberries and lavender.
Howard received so many donations and turned to Housing, suggesting the idea of new beds. Housing liked the plan he wrote up so much that they helped fund two new beds at Creekview Residence Halls.
He and students cultivated the beds into a thriving garden of vegetables including artichokes, basil, spinach, kale, swiss chard, cauliflower, kohlrabi, and sunflowers.
"And that's when deer came and ate everything," he says.
Campus Lawn Makeover
Eventually Housing Facilities Associate Director Steve McKenzie proposed putting campus lawns to good use by planting more beds.
Howard chose the area in front of The Canyon residence halls, rallied some students and soon a new garden began taking shape as "H" "S" "U", and so did interest.
The letters were hard to miss. Students watched construction from their residence hall windows. Others passing by stopped and offered a hand. Over time, he had a small army of 10 students.
The secret of the garden's success? "Deer fence" surrounding the HSU shaped beds, temperate climate and abundant rain, and more importantly, the campus community.
"Administrators, Housing and students have supported me along the way. And I think that support shows that if we all do little things like community gardens and keep working together, we can address climate change, increase food security, and provide healthy food to students."