A Clubs Fair & Carnival, Athletics Hall of Fame dinner, Food Truck Festival and Saturday football game headline Humboldt State University's Homecoming & Family Weekend, Friday and Saturday, Oct. 19-20.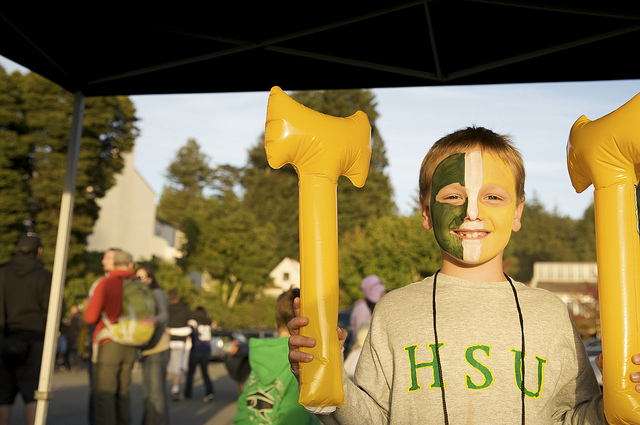 The celebration kicks off Friday morning at 11 a.m. in the University Quad with a free Clubs Fair & Carnival, featuring games and prizes, Marching Lumberjacks performances, a free photo booth, face painting and more. Campus tours will be available every two hours, departing from the Art Quad.
Friday afternoon's 4 p.m. Welcome Reception in Nelson Hall East Room 102 will spotlight fare from local vendors and is also free.
On Friday night's roster are the Athletics Hall of Fame Dinner in the Kate Buchanan Room at 6 p.m. and the Homecoming Pep Rally at 8:30 in the Quad.
Events and activities on Saturday, Oct. 20, will include further campus and guided tours, as well as kayak tours on Humboldt Bay. Other events on tap are the Golden Grad Brunch at Windows Café and Classes Without Quizzes, the "lively lectures without homework or tests," given at 1:30 and 2:30 by HSU faculty in the Native American Forum adjoining the Behavioral and Social Sciences Building.
The Lumberjacks face off against Dixie State Red Storm Saturday evening at 6 in Redwood Bowl, capping the 4-6 p.m. Tailgate Party and Food Truck Festival, which will feature Lucky Logger, the Marching Lumberjacks and free children's activities. Local food truck favorites Sausage Lovers, Nancy and Alma's Mexican food and Humboldt Hotdogs will serve food for purchase.
Homecoming & Family Weekend wraps up Saturday night with a Symphonic Band and Jazz Orchestra Concert in Fulkerson Recital Hall at 8 p.m. and a performance by British comedian Eddie Izzard in Van Duzer Theatre, also at 8 p.m.
For a full list of events, including locations and prices, visit http://www.humboldt.edu/homecoming/events.php.