The Campus Center for Appropriate Technology is rebuilding after being moved to a new location, offering another generation of students the chance to learn skills that lead to a greener future. CCAT's Grand Reopening was Saturday, September 29th.
Student volunteers tend to the vegetable and herb gardens that surround the Campus Center for Appropriate Technology. Others work on a gray water system that will recycle water from the house to nourish fruit trees planned for the yard. Inside, the smell of cinnamon and fruit fills the air as students can locally grown organic peaches, apples and pears to preserve them for future meals.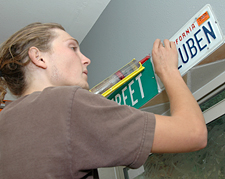 In other words, it's just another day as usual at CCAT, Humboldt State University's hands-on environmental learning center and demonstration home for sustainability projects. "This place is awesome," says senior wildlife biology major Sarah Marnick, showing off jars of apple sauce she has just prepared. "It's great to have this opportunity here on campus to learn these skills that other schools don't provide."
From a distance, CCAT looks like an ordinary house, but the humble clapboard home with solar panels on the roof is in the midst of a major rebuilding effort after being moved to make way for the new Behavioral and Social Sciences building. And, while the CCAT house may lack the architectural grandeur of the BSS building (the most environmentally advanced classroom facility in the Cal State University system), it serves an equally ambitious mission: take knowledge learned in the classroom and apply it in a real-world setting.
A variety of university courses spend classroom time at CCAT, where students learn about everything from renewable energy to organic agriculture to green construction and design. Marnick, for instance, cans fruit in the kitchen as part of a class called The Lost Arts of Living while, in the living room, engineering students review plans for the soon-to-be-built gray water system. The goal is to teach students how to tread lightly on the planet, and to provide the wider community with an example of sustainable living.
"It's a living classroom," says Sam Hart, one of three co-directors who reside at CCAT and oversee its operations. For Hart, a senior geography major who first got involved with CCAT as a freshman, working and volunteering at the house is among the most valuable experiences of his academic career.
Hart guides visitors on a tour of the house to illustrate the philosophy behind appropriate technology, or AT. "Everybody has a slightly different definition of AT," Hart says. In general, the term means providing affordable solutions for human needs with minimal environmental impact. Examples include everything from the home's pedal-powered television to a portable solar oven to the photovoltaic panels to a soon-to-be-installed composting toilet that breaks down human waste and turns it into soil for the gardens.
Hart touches the painted walls in the hallway. The home's interior is decorated with colorful paints made of non-toxic ingredients—flour, mica, clay and natural pigments. Appropriate technology also means using donated and recycled materials. In the bathroom, Hart points to the floor tiles obtained for free from a building supplies business. He pulls back the shower curtain to show road signs that have been glued to the walls. Retrieved from a salvage yard, the waterproof signs serve as a colorful shower stall. "A lot of this stuff would have ended up in a dump," Hart says. "We put it to use."
Little by little, workers are reshaping the yard into a miniature eco-topia. "We joke that this is our little patch of South America or Southeast Asia," Hart says, standing in the terraced gardens behind the home. The area used to be a bramble patch of invasive plants and weeds. As well as common fruits and vegetables, the garden includes edible native plants, herbs and wildflowers.
CCAT was founded in 1978, when a group of students, faculty, administrators and community members decided to save a dilapidated house and convert it from an eyesore into a model of green living. It was a novel concept at the time, and it has since spawned similar projects elsewhere, helping to cement HSU's reputation as an environmental leader among colleges and universities nationwide.
"I want to bring this concept back to Florida," says Jenn Dyer, a junior exchange student from New College who frequently visits the CCAT house to participate in the many on-going construction projects. "I've been talking with friends back home about this place and they are very excited about the idea."
The recently installed solar panels should provide all of the home's electricity, and a solar hot water heating system will not only provide hot tap water but also warm the house in winter by circulating the sun-warmed H2O through radiant concrete floors on the ground level. The concrete floors themselves are a thing of beauty, covered in a swirl of natural pigments made from iron sulfate and coffee topped with a soy-based sealant. The energy efficient home's walls are filled with blown-in cellulose—made from shredded recycled newspaper—rather than industrial fiberglass.
Future projects include the installation of a rainwater collector to gather and store runoff from the roof, which will be used to quench the gardens. Thanks to volunteer labor, Hart says, the entire rebuilding project, which began in earnest in the spring, should cost only $30,000. This is the amount spent by students to renovate the upstairs of the house since the spring, a much larger sum was spent by the university to physically relocate the house and construct the new lower level, and grade the site.
"This place is a haven outside of academics," says Matt Peters, a junior with an inter-disciplinary major in earth systems. "Students can come here and explore different concepts and ways of living. It's a real asset to the campus."
For more information about the Campus Center for Appropriate Technology. Or stop by any Friday, volunteer day, to participate in the ongoing reconstruction effort.