Rising through the ranks of higher education, Cathy A. Sandeen ('76, Speech Pathology) has now been named president at California State University East Bay (CSUEB). Sandeen, currently the chancellor of the University of Alaska Anchorage (UAA), will take the helm on January 4, 2021.
"I am thrilled to return to the Bay Area to work alongside Cal State East Bay's gifted faculty and staff to further the academic achievement of this wonderfully diverse group of students attending the Hayward and Concord campuses," said Sandeen, a native of Oakland, California. "My own previous experiences and future aspirations closely match Cal State East Bay's values, and the university-wide commitments to communities of color and sustainability are particularly relevant in this time. I embrace those commitments and will work to further the university's leadership in these critically important areas."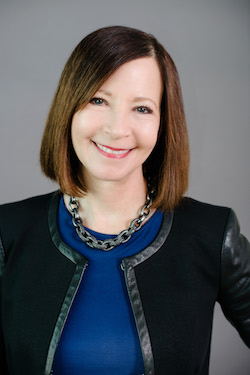 >>Related story: Cathy Sandeen profile (Humboldt magazine)<<
Sandeen's higher education journey began at Humboldt State, a defining experience where she developed foundational knowledge and skills.
"My time at Humboldt State University was truly transformative. I arrived as a 17-year-old, first-generation college student living on campus with roommates from different backgrounds. My professors were proactive, approachable, and encouraging, a good thing for someone who was completely intimidated by the educated people I encountered. Because of them, I found my place at the university," said Sandeen. "I expected HSU to be beautiful, but the natural beauty surrounding campus from the forest to the beach to the mountains was nothing short of inspirational, making all the rain worth it! Looking back, I realize I graduated with outstanding research and writing skills and a passion for my academic discipline—communication—that continue to serve me to this day."
Sandeen went on to earn a master's in broadcast communication from San Francisco State University, an MBA from the University of California, Los Angeles and a Ph.D. in communication from the University of Utah. Sandeen was born in nearby Oakland, CA.
Prior to her time at UAA, Sandeen served as chancellor of the University of Wisconsin Colleges and University of Wisconsin-Extension from 2014-18. In that role, she served as leader and chief administrator and was responsible for the academic, financial and administrative activities of two statewide higher-education institutions.
"Throughout her career in higher education, Dr. Sandeen has created and implemented initiatives to increase diversity, equity and inclusion," said CSU Trustee Jack McGrory, chair of the CSUEB search committee. "She is a proven leader with a long and demonstrated history of innovation leading to greater opportunity and success for all students."
Sandeen was appointed to the position of UAA chancellor in 2018 and in that role, she oversees all academic, financial, operational, student affairs, outreach and development functions for Alaska's largest open access, urban-metropolitan university.
Her other experience in higher education includes service as the vice president, education attainment and innovation for the American Council on Education (2012-14), the dean at the University of California, Los Angeles Extension (2006-12) and in various leadership roles at the University of California, Santa Cruz (2000-06) and the University of California, San Francisco (1990-2000). She has been a member of the faculty at Santa Clara University, San José State University, the University of Utah, Stanford University and San Francisco State University.