The Theatre, Film and Dance Department at Humboldt State University presents William Shakespeare's Julius Caesar, one of several plays written by Shakespeare based on true events from Roman history.
Image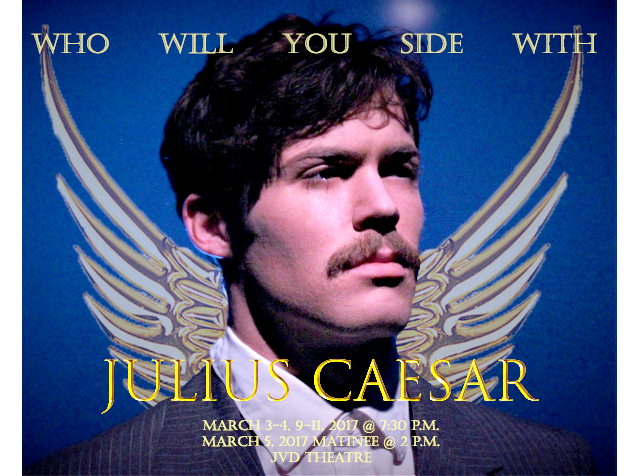 The play, known to have been performed in 1599, is believed to be one of the first of Shakespeare's works performed at the Globe Theatre outside of London. The story follows the ambitious Caesar and his desire to become dictator of Rome. He is warned to beware the Ides of March but chooses to ignore that warning and is assassinated due to the plotting of Brutus Cassius and other senators of Rome.
The production is directed by Calder Johnson, Artistic Director of the North Coast repertory Theatre, Executive Director of Plays in the Park and HSU Theatre, Film and Dance Department alumnus. Johnson explains that he has "always been attracted to Shakespeare, to the poetry and fierce emotion in his language. Julius Caesar, in particular, has been fascinating for me in the last couple of years because of its profound political commentary on our modern world." Johnson believes that the play "is a play about how a republic dies. There are no heroes and villains in this show. Just ambitious, self-assured politicians, each of whom is steadfastly convinced that their way is right, correct, and only they can save Rome from those they believe would destroy it." Johnson has set the production in modern times while incorporating motifs from ancient Rome. "I think sometimes we see Shakespeare existing as some kind of dusty historical artifact on display that is relevant only to scholars and bored high school kids. Honestly—throughout this directing process, there are times that I desperately wish that this play didn't feel so relevant."
The Julius Caesar cast consists of twenty-four actors. The production opens March 3 and continues March 4, 9, 10, 11 at 7:30 p.m. There will be one matinee performance beginning at 2 p.m. on Sunday, March 5. General admission is $10. Students and Seniors are $8. HSU students are admitted for free. Parking is free on weekends. For tickets, please call 707-826-3928. For more information, call the HSU Theatre, Film and Dance Department at 707-826-3566.