Humboldt State is among the country's first universities to accept Electronic Benefit Transfer (EBT) cards from the U.S. Dept. of Agriculture's Supplemental Nutrition Assistance Program (SNAP). Eligible students, faculty, and staff can now use Electronic Benefits Transfer cards to purchase food at the College Creek Marketplace.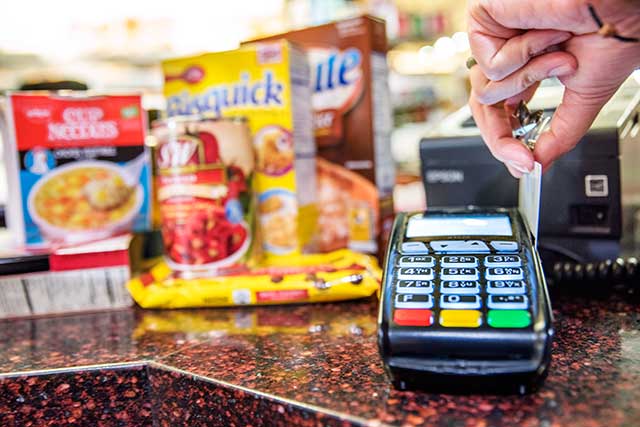 Known as CalFresh in California, the benefits program offers nutrition assistance to eligible, low-income individuals and families. It is also the largest program in the nation's efforts to end hunger. The program issues monthly electronic benefits that can be used to buy most foods at many markets and food stores.
On campus, eligible students, staff, and faculty will be able to use SNAP benefits to purchase groceries like vegetables, fruits, canned food, and freezer items from the College Creek Marketplace. The cards will not be accepted in other dining locations including the J and the Depot, or for prepared deli items from the College Creek Marketplace.
The Food & Nutrition Act of 2008 limits SNAP benefits to certain items and bars users from purchasing spirits, tobacco products, and other non-food items like pet food or household supplies.
But even with these limits, access to SNAP benefits is seen as a positive move in the university's on-going efforts to address food security for students.
"Food security issues, such as having access to adequate nutrition or even enough food, are very important to our students well-being," says HSU Social Work Professor Jen Maguire, who researches food security issues. "Research has continually shown that access to healthy and affordable foods can improve the quality of life for everyone. Emerging evidence points to direct links between our students' ability to access nutritious foods and to successfully navigate stresses of studying, home life, and working to afford school," says Maguire.
Vice President of Student Affairs Peg Blake sees the addition of SNAP benefits on campus as a positive step in reducing the challenges students face on a daily basis. "Bringing EBT benefits to campus will truly help our students who struggle daily meeting the basic need of adequate food and nutrition," says Blake. "I'm very proud that we are one of the first universities to make a commitment to address the food insecurity faced by many of our students in this manner, assisting students in taking advantage of this important benefit."
In 2015, HSU graduate student Heather King published "College Student Eligibility Barriers to CalFresh," a thesis for her Masters of Social Work program. Through interviews and surveys, King found that up to 40 percent of students were cutting the size of meals or skipping them entirely because they didn't have enough money for food.
King's research is part of HSU's efforts to address student access to food, which includes bringing CalFresh benefits to campus. Since 2013, the student-driven Oh SNAP! program has helped refer students to the CalFresh benefits program and connected them to local food assistance efforts. Students can get free food through Oh SNAP's Campus Food Pantry and seasonal farm stands. The group also offers cooking demonstration courses and shuttles students to nearby farmers markets.
Learn more about HSU Oh SNAP! at hsuohsnap.org.