The California Ocean Science Trust has awarded ten grants totaling $4 million to state and local agencies to conduct marine research on the North Coast, including over $2.2 million to Humboldt State University.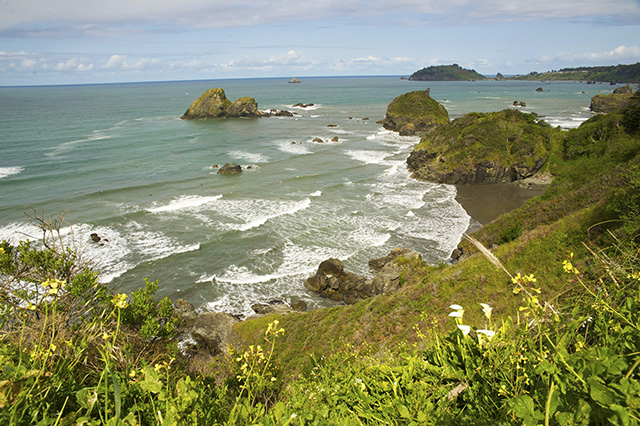 The grants are part of the North Coast Marine Protected Area (MPA) Baseline Program, which supports the collection of ecological and socioeconomic information on beaches, reefs and ecosystems on the North Coast. Principal investigators on seven of the ten projects are Humboldt State University faculty members and several other faculty members will contribute in key investigator roles.
"HSU faculty researchers, with support from the North Coast Region community, local legislators, and the staff in the HSU Sponsored Program Foundation, have succeeded in ensuring that research in the North Coast Marine Protection Area includes local expertise," said Rhea Williamson, Dean of HSU's Office of Research, Economic and Community Development. "In addition to contributing to the science associated with each of the funded projects, likely outcomes of this effort include the potential for future funding for HSU faculty, students and external partners as well as enhanced collaborations with the tribes and with state and local agencies."
A group of scientists, fishermen, tribal governments and citizen-science groups from 31 organizations, including Humboldt State University, will gather data between February 2014 and February 2017.
The goal of the MPA program is to establish benchmarks for measuring the performance of the region's new marine protected areas from an ecological and socioeconomic perspective. California Sea Grant administers the program with MPA Monitoring Enterprise, the California Department of Fish and Wildlife, and the California Ocean Protection Council.
Below is a list of the ten projects with principal investigators highlighted in bold:
Baseline Characterization of Estuarine Ecosystems
Frank Shaughnessy, Humboldt State University
Timothy Mulligan, Humboldt State University
John Largier, Bodega Marine Laboratory, UC Davis
Adam Wagschal, H.T. Harvey & Associates
Stephen Kullmann, Wiyot Tribe
Baseline Characterization of Sandy Beach and Surf-zone Ecosystems
Karina Nielsen, Sonoma State University
Sean Craig, Humboldt State University
Timothy Mulligan, Humboldt State University
Jenifer Dugan, Marine Science Institute, UC Santa Cruz
Rosa Laucci, Smith River Rancheria
Baseline Characterization of Rocky Intertidal Ecosystems
Sean Craig, Humboldt State University
Andrew Kinziger, Humboldt State University
Joe Tyburczy, California Sea Grant Extension, UC San Diego
Ivano Aiello, Moss Landing Marine Laboratories, San Jose State University Research Foundation
Peter Raimondi, UC Santa Cruz
Rosa Laucci, Smith River Rancheria
Baseline Characterization of Rocky Reefs and Kelp Forests by Reef Check California
Jan Freiwald, Reef Check California
Gregor Hodgson, Reef Check Foundation
Baseline Characterization of Nearshore Rocky Reefs and Kelp Forests
Sean Craig, Humboldt State University
Ryan Jenkinson, Humboldt State University
Adam Wagschal, H.T. Harvey & Associates
Baseline Characterization of Nearshore Fish Communities Associated with Rocky Reef Habitats
Timothy Mulligan, Humboldt State University
Dave Hankin, Humboldt State University
Joe Tyburczy, California Sea Grant Extension, UC San Diego
Drew Barrett, Humboldt State University
Baseline Characterization of Seabirds
Richard Golightly, Humboldt State University
Daniel Barton, Humboldt State University
Phil Capitolo, Institute of Marine Sciences, UC Santa Cruz
W. Breck Tyler, Institute of Marine Sciences, UC Santa Cruz
Craig Strong, Crescent Coastal Research
Daniel Robinette, Point Blue Conservation Science
Jaime Jahnke, Point Blue Conservation Science
Traditional Ecological Knowledge of Keystone Marine Species and Ecosystems
Megan Rocha, Smith River Rancheria
Hawk Rosales, InterTribal Sinkyone Wilderness Council
Rachel Sundberg, Cher-Ae Heights Indian Community of the Trinidad Rancheria
Thomas Torma, Wiyot Tribe
Baseline Characterization of Human Uses and the Socioeconomic Dimensions of MPAs
Steven Hackett, Humboldt State University
Laurie Richmond, Humboldt State University
Cheryl Chen, Point 97
Charles Steinback, Point 97
Characterization and Indicators of Oceanographic Conditions
Eric Bjorkstedt, Humboldt State University and NOAA Southwest Fisheries Science Center
Brian Tissot, Humboldt State University
John Largier, Bodega Marine Laboratory, UC Davis
William Sydeman, Farallon Institute for Advanced Ecosystem Research
Marisol Garcia-Reyes, Farallon Institute for Advanced Ecosystem Research