The campus community is coming together to donate sewn face coverings for students, who have been encouraged to wear them in public while performing essential trips.
Image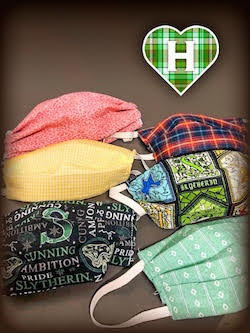 Forever Humboldt is coordinating a campus effort to provide all students with at least one face covering, and is asking the campus community for donations of sewn cloth face coverings.
The effort was inspired by Rae Robison. The associate professor in the Theatre, Dance & Film department has used her costume design know-how to stitch together 330 homemade non-medical grade face coverings— including 128 she recently donated to HSU — amid the shortage of personal protective gear for doctors and nurses helping coronavirus patients.
"As soon as I saw the growing need for face coverings, I started sewing them and mailed them all over the country to friends, students, and family," says Robison.
HSU's donation drive follows the Centers for Disease Control and the University's recommendations to wear cloth face coverings in public. All donated face coverings will be washed before being distributed to students by Oh SNAP! Student Food Programs.
"I want to thank the Humboldt State community for helping our students stay healthy and safe," says Alumni Director Stephanie Lane. "Students, faculty, and staff have been supporting each other during this challenging time and their collaborative spirit has been inspiring."
For more information, please contact forever@humboldt.edu.