Once again, Humboldt State University has been named a "Green College" by The Princeton Review. The education services company included HSU in their 2022 edition of The Princeton Review Guide to Green Colleges, released this October.
Image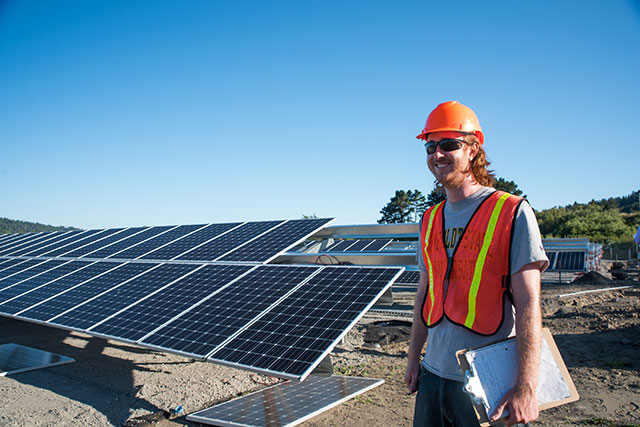 For the 2022 guide, which can be accessed for free at princetonreview.com/green-guide, the Princeton Review named 420 schools as Green Colleges based on administrator surveys and STARS (Sustainability Tracking, Assessment, & Rating System) ratings. Survey topics ranged from clean energy career preparation to campus initiatives and solar-powered facilities.
To generate this year's list of top-performing schools, Princeton Review editors analyzed more than 25 survey data points to tally Green Rating scores for the schools on a scale of 60 to 99. Data comes from a range of areas from University operations and student life, to sustainability in academics and food and beverage purchasing (see the full list of data points used here).
Colleges that earned a Green Rating of 80 or higher made it into the guide. Of the 420 schools selected in 2022, 391 are in the U.S., 26 in Canada, one in Ecuador, one in Egypt, and one in Greece. The schools are listed alphabetically in the guide and not ranked overall from 1 to 420.
"Given the sobering indicators of climate change and global calls to prioritize sustainability, we are pleased to shine a light on these schools and recommend them for their exceptional commitment to the environment," said Rob Franek, editor in chief of The Princeton Review.
Franek also noted that 78% percent of the 11,133 college applicants responding to the company's 2021 College Hopes & Worries Survey said that having information about a college's commitment to the environment would affect their decision to apply to or attend a school. That figure was a 12% increase over the 66% of applicants who indicated such in 2020.
The colleges featured in the guide include information on each school's use of renewable energy, recycling and conservation programs, and career guidance for green jobs. The profiles also include information on the schools' admission requirements, cost, and financial aid.
For information, check out HSU's profile at princetonreview.com.
"Being named a Green College once again is especially poignant and timely this year because our students are increasingly calling for urgent attention to issues of climate justice, systems fragility, and integration of more forward-thinking and resilient plans for the future," says HSU sustainability analyst Katie Koscielak. "As we grow, I hope our sustainability leadership will become even more vibrant, making HSU a top university for students seeking expert training in all the intersectional and multi-disciplinary issues of sustainability."
HSU has long been a premier institution offering robust experiences and training for students interested in sustainability, primarily driven by student activism and leadership. In 1987, HSU students took it upon themselves to create the Graduation Pledge of Social and Environmental Responsibility, which has become a tradition and been adopted by many universities across the nation. Faculty have consistently and increasingly met the needs of students by incorporating sustainability topics and case studies into hundreds of classes. HSU was also the first public university in California to ban the sale of single-use plastic water bottles on campus, after students waged a successful campaign called Take Back the Tap. The Humboldt State University Foundation led their peers across the nation by divesting from fossil fuels after a successful student advocacy campaign in 2013. HSU has been recognized twice by the Association for the Advancement of Sustainability in Higher Education for earning a STARS Gold rating. And most recently, the campus has set goals to earn a STARS Platinum rating, an elusive and exemplary status that no other CSU campus has yet to achieve.
Learn more about HSU's green endeavors from the Office of Sustainability.