Humboldt State University President Rollin C. Richmond will confer an honorary doctorate degree at Commencement May 12 on one of the world's prime movers of regenerative medicine and stem cell research.
Real estate magnate Robert N. Klein, who conceived and led California's Proposition 71 initiative in 2003 to pump $6 billion into the state's new Institute for Regenerative Medicine, will receive an Honorary Doctor of Laws Degree. Substantial sums have been apportioned to students at Humboldt State and in the California State University system.
President Richmond will preside at the noontime graduation ceremonies May 12 of HSU's College of Natural Resources and Sciences when he presents the degree to Klein, who has been recognized internationally for his contributions to medicine and science. Time magazine honored him in 2005 as "One of the World's 100 Most Influential People of the Year."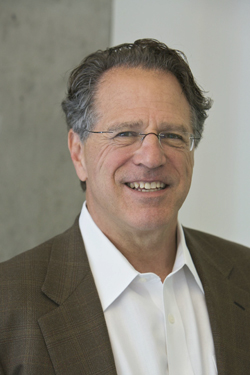 Soon after, Scientific American named Klein one of "The Scientific American 50" as a leader in shaping the future of science. Bio 2010, the International Biotech Conference, presented him with the second Bio International Humanitarian Award in its history.
In June 2011, the International Society for Stem Cell Research granted Klein its inaugural Public Service Award at its ninth annual meeting in Toronto.
President Richmond recalled, "Proposition 71 enabled the California Institute for Regenerative Medicine to fund stem cell technology research at a moment in history when some of our political leaders did not have the courage to support this important work. Today, stem cell research and technology are transforming medicine throughout the world. Thanks to Mr. Klein's efforts, our country is a significant player and our citizens can receive better health care as a result."
Humboldt State has received nearly $3.5 million and the CSU nearly $44 million to support students who take part in the institute's Bridges to Stem Cell Research program. The initiative is training the next generation of stem cell scientists and laboratory technicians by funding courses and research internships for undergraduates and master's-level graduate students.
"Our students speak glowingly of the opportunities they receive to learn the field at Humboldt State and then to work in some of the most prestigious laboratories in research universities in California," Richmond said. "Without Robert Klein, none of this would have happened. We laud him for his courage in struggling to get Proposition 71 adopted and then for leading the institute," where he is now chairman emeritus of the governing board.
Klein strongly supported the CSU proposals to involve its students in the institute. "This afforded our students opportunities to become stem cell scientists that otherwise they would not have had," Richmond emphasized, adding, "What is more, distinguished scientists from some of the strong research universities in California have told me that HSU students are among the best researchers they have had in their laboratories. Robert Klein has made all this possible."
Klein is president of Klein Financial Corporation, a real estate investment banking, development, and consulting company focused on affordable housing finance and development.
In 2002, Klein was a principal negotiator on a Juvenile Diabetes Research Foundation team. It pressed successfully for passage of a $1.5 billion mandatory federal funding bill for an additional five years of Type 1 and Type 2 diabetes supplemental research by the National Institutes of Health.
In 2004, the California legislature adopted a resolution honoring Klein for his leadership and drafting of the California Housing Finance Agency legislation, and his related contributions.
Again, in 2009, the legislature passed language recognizing Klein for authoring Proposition 71, leading the campaign for its adoption and chairing the governing board of the California Institute for Regenerative Medicine.