Humboldt State University has been recognizing the achievements of alumni since 1960 when it launched its annual Who's Who Award. Distinguished alumni are individuals recognized as leaders in their fields, and/or outstanding contributors to their community, nation, or Humboldt State University. Here are this year's winners.
All five award winners will present talks as part of the Distinguished Alumni Speaker Series, April 21-22. For more information on the series, click here (PDF).
Greg Beck, 1994 Environmental Systems (International Development)
Director of Integrated Development, FHI 360
Image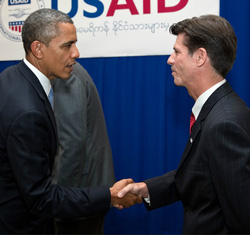 After volunteering for the Peace Corps in Nepal, Greg Beck continued his education in the International Development track of the Environmental Resources Engineering graduate program.
Currently, Beck is FHI 360's Director of Integrated Development where he leads a corporate initiative to generate evidence and foster global learning on integrated development solutions.
Before joining FHI 360, Beck served in the Obama Administration as Deputy Assistant Administrator in the Asia Bureau for the U.S. Agency for International Development (USAID), where he managed more than $2 billion in funding for development programming and policy in East Asia and the Pacific. Additionally, Beck presided over the reopening of the Burma (Myanmar) mission after a 24-year closure and chaired the U.S. government's interagency committee that planned and launched President Barack Obama's Partnership for Growth in the Philippines.
Beck also brings many years of field and senior leadership experience from the International Rescue Committee, Community Housing Foundation, USAID's Office of Transitional Initiatives and the Peace Corps that he speaks to in his recent TEDx talk. He has worked in Africa, the Caucasus, Asia and the Balkans and led large emergency responses around the globe.
Beck has a bachelor's degree in Foreign Service and International Politics from Penn State University.
Greg Beck and Piet deVries deliver the talk, "An Inside Perspective on International Relief and Development," on Thursday, April 21, at 5 p.m., in Science B, Room 133.
Piet deVries, 1993 Environmental Systems (International Development)
Senior Technical Advisor, Global Communities
Image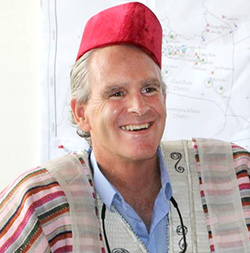 Piet deVries has led a country-wide response to the Ebola crisis in Liberia. There, he oversaw operations in the countries 15 counties, established improved hygiene and sanitation practices, and paved the way for dignified burials that respected the wishes of the deceased's families and prevented the human-to-human transmission of the deadly virus.
It's the greatest challenge deVries has faced, he says, and that's after a career that has taken him to Thailand, Pakistan, Kosovo, and a host of other countries.
Currently, deVries is the senior technical advisor for the Global Communities' Improved Water, Sanitation, and Hygiene (IWASH) program. Global Communities is an international nonprofit that works to improve the lives and livelihoods of the vulnerable worldwide. In response to the Ebola outbreak, IWASH evolved into the Assisting Liberians with Education to Reduce Transmission (ALERT) program, both of which receive funding from the U.S. Agency for International Development. deVries credits the success of the program to a focus on establishing trust and connections with the communities where he worked. deVries is originally from Aptos, Calif.
Piet deVries and Greg Beck deliver the talk, "An Inside Perspective on International Relief and Development," on Thursday, April 21, at 5 p.m., in Science B, Room 133.
Heather Hostler, 2012 Native American Studies (Law & Government)
Chief Deputy, Calif. Office of the Tribal Advisor
Image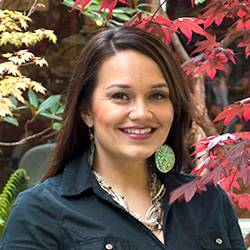 As the Chief Deputy Tribal Advisor to Calif. Gov. Jerry Brown, Heather Hostler is motivated to improve the Native American communities throughout the state. In her role in Sacramento, Heather works with state agencies and tribal governments to strengthen communication and collaboration. Her work includes reviewing legislation, consulting on policy development, coordinating drought responses on tribal lands, and much more.
Heather has long been involved in leadership, serving as the president of the Indian Tribal & Educational Personnel Program at HSU and working with the Humboldt Area Foundation as a program director developing scholarship funds to send Native students to college. Heather is also a member of the Hoopa Valley Tribe.
Heather Hostler delivers the talk, "Two Worlds, One Goal: Success Through a Native Lens" on Thursday, April 21, at 3 p.m. in the Goudi'ni Gallery.
Phillip C. Humphreys, 1991 Social Work & 1993 Social Sciences
Dean of Students, El Camino College Compton Center
Image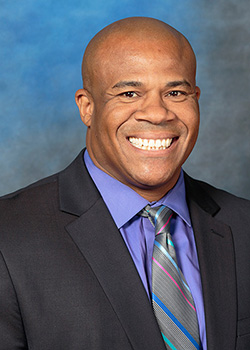 Phillip Humphreys is a tireless public servant whose mission is to expand access to education among minority groups that have found the road to college a hard one to travel. Since his first days as a student at HSU, he has been uplifting his peers and fellow students on campus. He served as a peer counselor with the Educational Opportunity Program, and was president of the Black Student Union. Humphreys was instrumental in helping HSU establish the Multi-Cultural Center for students on campus and ensured the University supported the center by having a paid director position.
Today, Humphreys is the dean of student services at the El Camino College Compton Center, overseeing a variety of resources and programs to support students. He has more than 15 years of managerial experience in higher education, administering state and federal programs for students. He has devoted his career to developing, implementing, and managing student support programs for first-generation, low-income, and underrepresented students.
Before joining ECC Compton Center, Humphreys was the director of the Upward Bound Program at California State University, Long Beach (CSULB), and prior to that, he served as director of the Workforce Investment Act (WIA) also at CSULB. From 1997-2002, he was the assistant director of the Education Equity Services Program at CSULB. Humphreys also has social work experience with the Los Angeles Department of Children's Services' Youth Intervention Program where he served as an In-home Outreach Counselor.
Humphreys earned an Ed.D. in Organizational Leadership from the University of La Verne.
Phillip C. Humphreys delivers the talk, "Finish Strong," on Friday, April 22, at 2 p.m., in Gist Hall, Room 218.
Burt Nordstrom, 1975 Physical Education
Vice President of Administrative Affairs, HSU (Ret.)
Image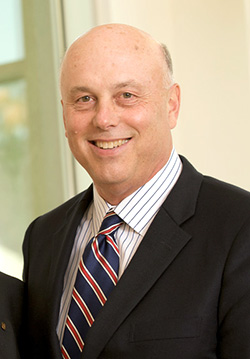 Humboldt State has been a part of Burt Nordstrom's life since he was a kid.
He remembers riding his bike to campus to play in the old field house, and occasionally to sneak into the gym for some pick-up basketball. He later chose Humboldt for college.
Despite a tough start that included failing his first writing assignment as a freshman, he thrived as a student, got involved in campus life and student government, and earned his degree. He also enjoyed great success in football and baseball at HSU. He went on to play two years of minor league baseball, and in 1998 was inducted into the University's Athletics Hall of Fame.
But all of that was just the beginning. After graduating, he went to work with University Center, and ended up spending four decades in various roles at HSU. At UC, he eventually became executive director. Then in 2004, he was tapped to serve as HSU's Vice President for Advancement, and he helped create HSU's Advancement Foundation. After "retiring" he returned to serve as Vice President for Administrative Affairs, providing valuable leadership during the challenges of the recession and budget cuts to higher education.
"I received an outstanding education, and had a great experience as a student," Nordstrom says. "Then I was able to spend my career at HSU doing all the things I enjoyed, and at a place I care about. That is something I will always appreciate."
Nordstrom has had a hand in countless projects across campus – including the Rec Center, the clock tower, the Library Café, Humboldt Bay Aquatic Center, College Creek Marketplace, numerous classroom upgrades, and significant expansion of the University Center. His focus, he says, always remained on improving the quality of the student experience. When he retired, the University Senate recognized him with a resolution that read in part: "HSU has been blessed to have a person of Burt's caliber and dedication."
Always a fan of Lumberjack athletics, Nordstrom continues to volunteer as a radio commentator on the local ESPN affiliate during broadcasts of Lumberjack football games, a role he has relished for more than 25 years. He says he's proud to give his time to a place that's been such a big part of his life.
Burt Nordstrom delivers the talk, "Personal Values, Integrity, and Personal Ethics" to Prof. James Biteman's BA 494 Class on Thursday, April 21, at 11 a.m. in Siemens Hall 109.