With the Spring semester underway, HSU Dining is pleased to offer Lumberjacks a look forward to fall with new meal plans, overview of recent dining enhancements, and a continued focus on providing an innovative culinary experience on campus.
Image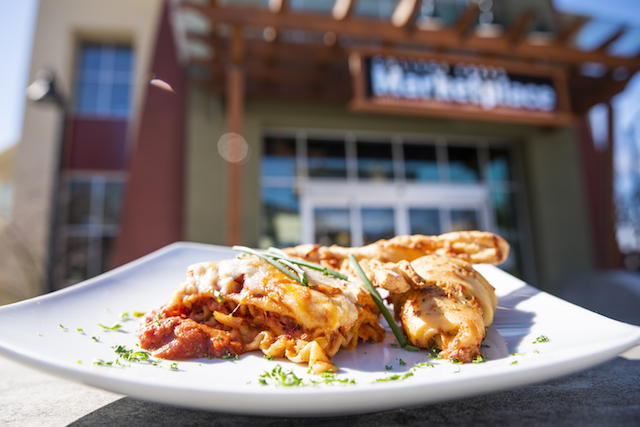 Fall 2021 – New Meal Plans
Looking forward to fall, the 2021-2022 academic year will bring a shift to the dining program, and five new, lower-cost on-campus meal plans, designed with flexibility and value in mind. To ensure students and all guests have access to nutritious meals and abundant variety, the J will undergo operational and technology enhancements in order to implement an All You Care To Eat (AYCTE) dining program. This change allows for new, flexible meal plans that provide a great value to the students.
The new meal plans include All Access and Lumberjack block options, and each comes with flex dollars, which can be used for a la carte retail dining. All Access plans offer the best value with unlimited dining in The J, ensuring students have ample access to meals throughout the semester. Lumberjack block plans offer 75, 125, or 180 meals per semester. Both All Access and Lumberjack plans include guest passes. In addition, all plans come with meal exchanges, which allows guests to exchange a set number of meals from the J for complete meals at other campus venues. HSU Dining remains committed to evolving a student-centered program with the following priorities:
Affordability – Plans no longer include the fixed cost so every dollar of the plan goes toward meals, and the average user will save up to $1,000 per year depending on the meal plan. See a comparison between the old and new meal plans.
Flexibility – The combination of All You Care to Eat, flex dollars, and meal exchange offer maximum flexibility.
Variety – Enjoy new rotating menus, expanded vegan and vegetarian selections, increased customization, and made-to-order offerings.
Jason Meriwether, Vice President for Enrollment Management explains "our focus is on our students, and I am pleased that this partnership allows students to simply get a better quality food experience for significantly less money."
Fall will also include new flexible, value added meal plans for faculty, staff, and commuter students.
Please visit the Housing & Residence Life page for more information about the 2021-2022 on-campus meal plan offerings.
The J
Spring semester brings a fresh take on HSU Dining with five new culinary stations at The J curated with chef-inspired menus, each including vegan or vegetarian offerings. Based on Lumberjack feedback, menus include more fresh vegetables, hearty grain salads, and more protein options. The culinary team will continue to offer more customization, specials, and made-to-order food throughout the dining program.
Guests can enjoy rotating menus at the dining stations, offering freshly prepared entrees for every taste:
Homestyle – Hearty comfort food favorites, fresh vegetable sides, house-made soup
Cucina – Rotating selection of pizza, pasta, and fresh baked breadsticks and garlic knots
Rooted – Vegan and vegetarian fare, featuring flavorful international dishes that incorporate produce from local farms and hearty grains
Fresh 52 – Assorted salads, whole grain sides, grilled protein
The J Grill – Fresh beef burgers, grilled chicken sandwiches, veggie burgers, with fresh toppings
My Pantry – Fresh baked cookies and assorted sweet treats
As part of the commitment to a student centric culinary program, HSU Dining will be hiring its first executive chef to lead culinary innovation and ensure exceptional quality. The dining team will work in partnership with the newly formed Dining Advisory Board and the campus community to continue to evolve the program based on student, staff, and faculty feedback, as well as local and national food trends.
College Creek Marketplace
Refreshed menus at College Creek Marketplace include an enhanced selection of freshly prepared grab-and-go items, including grain salads, fresh cut fruit, wraps and sandwiches, as well as entrees by the pound. Lumberjacks can look forward to pop-ups of familiar favorites like hot wing Friday, or taco Tuesday. In addition, based on student feedback, guests will also find an expanded selection of fresh produce and additional cookware to make it more convenient to prepare fresh meals in their residence halls or apartments.
New Dining Website
Guests are invited to visit the new dining website and download the accompanying mobile app which allows students, faculty, and staff to review menus, hours of operation, and upcoming events. Menus include calorie, nutritional information, and indicators for vegan and vegetarian preferences. Visit dineoncampus.com/humboldtstate and download the mobile app in the Google Play or Apple App Store.
Commitment to Sustainability & Local Partnerships
Responsible sourcing and sustainability remain an integral part of the dining program. The dining team will continue to seek ways to optimize efficiency and reduce food waste during food preparation. The newly implemented Waste Not program, tracks food trimmings, food loss, and over-production to better manage and reduce waste and its effect on the environment. Though composting will continue, waste reduction is the primary goal. Measurements and data will be shared with the campus community in late summer when the system is implemented.
Maintaining the rich relationships with the local community, HSU Dining is working to maintain existing local partnerships and identify opportunities to exceed our local commitment. We look forward to expanding the sustainability and culinary footprint to include new local supplier partnerships.
With the commitment to responsible sourcing, Chartwells does not have any specific purchasing programs that source from prison labor and has over 600 partnerships with manufacturers, suppliers, and distributors across the country that adhere to our strict Code of Business Conduct, which includes compliance with all laws, including local and national labor laws.
HSU Dining looks forward to continuing to evolve the dining program, bringing an innovative culinary experience, and focusing on student engagement in partnership with the Humboldt State community.