For the fourth year in a row, Humboldt State University has been named a "Cool School" by the Sierra Club magazine's annual ranking of sustainability among North America's greenest colleges and universities.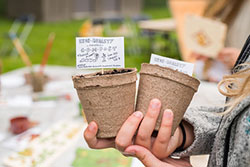 Jumping to a ranking of 75th among 328 participating institutions in 2021, HSU has been included in the top 100 sustainable schools since first being named a "Cool School" in 2018. Established in 2007, the Sierra Club's Cool Schools awards are designed to inspire healthy competition among schools and publicly reward institutions that prioritize protecting the planet. No fees are collected from participating schools.
HSU Sustainability Analyst Katie Koscielak says that HSU's high "Cool School" ranking reflects the University's broad commitment to sustainability across all departments.
"We maintain our leadership in this area," Koscielak says. "We moved up from #91 last year, plus the pool grew by 46 schools."
In order to be considered for the "Cool School" awards, the institution must have earned a valid STARS (Sustainability Tracking, Assessment, & Rating System) rating within the past three years. Sierra Club then compares the STARS data from each college on environmental practices, energy usage, and their commitment to sustainability on everything from cafeteria compost to campus activism. Extra points are awarded for innovation and fossil fuels divestment.
In 2021, HSU showed strong marks across the board, a reflection of the University's 2020 Gold STARS rating with particularly high scores in faculty research, campus water conservation, academic curriculum, and student life. HSU's scores have steadily increased over the last three STARS reports from 55% in 2013, to 69% in 2017, to 72% in 2020.
"Once again, students are leading the way," says Koscielak, who explains that students continue to demand and facilitate University-wide sustainable policies and practices. "This is why our top priority in the Office of Sustainability is supporting students' vision for innovation on campus."
Examples of student-led initiatives include the Graduation Pledge of Social and Environmental Responsibility, which was started by students in 1987 and has been used by more than 100 universities worldwide; the student-run Campus Center for Appropriate Technology (CCAT), an eco-demonstration home and campus garden; the Waste Reduction and Resource Awareness Program, which encourages waste reduction and diversion; the Humboldt Energy Independence Fund in which students voted to establish a fee that could pay for energy and other innovative sustainability measures for the campus; the 2011 ban on selling single-use plastic water bottles on campus, and other notable campaigns throughout HSU's history.
Learn more about HSU's green endeavors from the Office of Sustainability.
This story was originally published Wednesday, Sept. 22