The Theatre, Film, and Dance Department at Humboldt State University presents Dance Visions, a dance concert created by students and faculty that will be streamed online on May 7 and May 8 at 7 p.m.
Image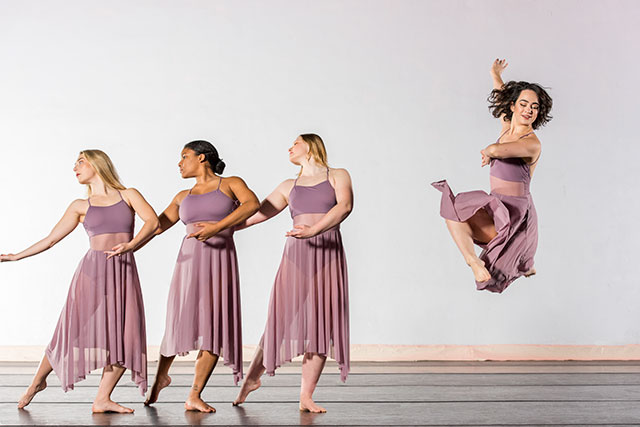 The performance is free and can be watched by following this link. This year's concert is co-produced by Dance Program Leader Linda Maxwell and faculty member Carrie Walpole.
Maxwell explains that Dance Visions is "an opportunity to see dance as performed by our local HSU students, via film. Since COVID shut down the spring dance concert of 2020, students have had no outlet to show their work that they had been creating and rehearsing for eight weeks. This concert has been a great opportunity for students to once again gain hands-on experience in their chosen art form.The diversity of dance genres, social, cultural and political messages allows audience members a full experience of dance."
The performance will include a rich variety of styles and themes. Bootstraps, choreographed by Brinn Coleman, is a piece about poverty and the never-ending cycle it puts a person in. This dance explores the difficulties of life in poverty and how it can pit us against each other. Coleman is a Dance Studies major at Humboldt State University and was born and raised in Arcata.
Choreographer Alexandria Holen describes Kitchen Sink as an "ode to self-care. Throughout the COVID-19 pandemic, self-care has felt more prevalent within my life and the lives I see within my bubble. It is about taking the time to do what is best within the moment, in order to succeed later on." Holen will graduate this semester with a double major in Kinesiology and Dance Studies.
Believing that sometimes we all need a little reminder of the magic in the world, choreographer Helinna Leone presents Flight of Fantasy. Leone invites the audience to find a spark within old fantasies and imaginations and carry it with them to remember how beautiful life can be. Leone, in her second year at HSU, is majoring in Kinesiology and Dance.
Day 274, choreographed by HSU Alumna Nacirema Johnson, serves as a short depiction of struggling with self-forgiveness and the journey to gain control of the obstacles we may face on a day to day basis.Johnson explains that"through these challenging times we are adapting to adversity, which requires a balance of forgiveness and determination."
HSU Dance Program Leader Linda Maxwell has choreographed two dances: Hear Me, a tribute to women today and into the future,using a mixture of contemporary, hip hop and tap movements; and La Llorona which is based on the Mexican folklore of the woman La Llorona, a ghost who roams the waterfront area looking for her drowned children. Maxwell, a certified floor-barre instructor, received her MFA in Dance from UC Irvine and has taught extensively throughout Humboldt County.
El Jarabe Michoacano, choreographed by Elizabeth Rivera, is a courtship dance from the state of Michoacan, México, where the styling and dress are strongly influenced by the indigenous peoples of the region. Rivera helped start the Ballet Folklórico de Humboldt and teaches Mexican Folklórico Dance at HSU.
Like Seasons We Change is a piece in the classical ballet style of dance and moves through an entire year of seasons, from Summer to Fall to Winter and then finally, Spring. Choreographer Alexandria Weber wants to touch upon the inevitability of change while still conveying the ever-present beauty of nature, all to make the point that change is beautiful. Weber is a dance major and senior at HSU.
Shoshanna, faculty member since 1998, has choreographed Mashti Mashallah in a style that draws upon the aesthetic of Qajar era Persian miniature paintings which includes spirals, geometric planes, and a constant flowing swirling quality. Rose runs Redwood Raks World Dance Studio in Arcata and directs the Ya Habibi Dance Company.
Mi Genti (My People) is choreographed by DiOria Woods, soon to graduate from HSU with a combined major in Dance Studies and Social Work. Woods describes this dance as predominantly jazz, with elements of West African, tap, and hip hop.
Illuminations is an abstract athletic contemporary jazz style dance. The dancers in this piece play with the abstract movement and feeling of different light forms. Choreographer Carrie Walpole has been teaching, choreographing and dancing since she graduated from HSU Dance.
Dance Visions will be streamed online on Friday, May 7 and Saturday, May 8 at 7 p.m. The performance is free and can be watched by following this link. Audience members of all ages are invited to watch.