The Theatre, Film and Dance Department will begin its run of Real Women Have Curves, by Josefina López, on April 21.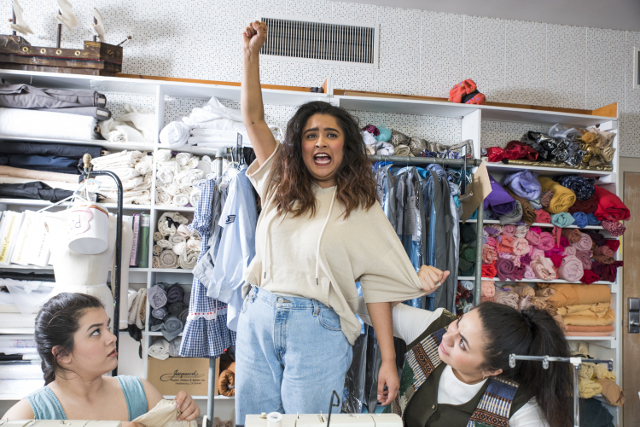 The play is set in a tiny sewing factory in East Los Angeles in September 1987 and delves into issues of gender politics and the Latina immigrant experience. The story is told from the point of view of Ana, a first generation Mexican-American teenager and the youngest employee at the factory. Ambitious and bright, Ana yearns to go to college, but doesn't have the money. The action follows the course of a summer at the factory, as the five women workers talk about their lives, loves and deepest desires while attempting to meet impossible production deadlines.
Playwright López was born in 1969, in San Luis Potosi, Mexico, and at age five emigrated with her family to the United States where they settled in Los Angeles. She graduated from the Los Angeles County High School for the Arts before obtaining a BA in film and screenwriting from Columbia College in Chicago and an MFA in screenwriting from the School of Theater, Film and Television at UCLA. López was undocumented for 13 years before she received Amnesty in 1987 and eventually became a U.S. Citizen in 1995. Real Women Have Curves is referred to as her signature work.
The production is directed by guest artist Brenda Hubbard who has directed, acted in, written or produced over 150 productions during her distinguished career as a theater artist. Her work has taken her around the country working with such notable companies as the Oregon Shakespeare Festival, Seattle Rep, Portland Rep, A Contemporary Theatre, San Jose Rep, Artists Rep and Laughing Horse Summer Theatre in Central Washington, among many others. She is a Professor Emeritus from Central Washington University where for 23 years she variously served as Professor, Chair, Head of Performance, Artistic Director and Graduate Coordinator. While at Central she received awards as a "Woman of Achievement" and the first faculty award for fostering "Diversity and Inclusion." She is currently writing a historical biography about a formerly enslaved African-American turned philanthropist, Wheeling Gaunt and a fictional coming of age story about a young girl called Ohio Girl.
Hubbard explains that she was attracted to the play "because it is hard to find a play that focuses on the stories of real women and particularly women of color. Real Women Have Curves has great roles for five Latina women. Under the guise of comedy, it is a play that focuses on issues that are important to me. The opportunity to work with women in an environment that fosters their mentoring and empowerment is exciting to me. It is an opportunity for all of us to grow as women and artists. Especially in light of the current political culture nationally, it is important for us to celebrate the stories of such women." Hubbard believes the play tackles several important issues:
• Undocumented people living in constant fear and how that fear can limit the person's ability to see potential and possibility.
• How does traditional Mexican culture interface with contemporary blended Mexican-American cultural norms and values?
• Coming of age – what does it take to become a woman, an adult? How does doing so impact relationships with parents, siblings and with ourselves?
• Generational conflict – what is it, how does it impact our ability to really hear and understand each other?
• What is the benefit of women bonding and supporting each other? What happens when women stop evaluating themselves and each other through a patriarchal lens and start to allow themselves and each other to act in freedom?
• The playwright places the story in 1987.How has the plight of the undocumented worker changed since 1987 or has it?
Real Women Have Curves opens April 21 in the Gist Hall Theatre and continues April 22, 27, 28, 29 at 7:30 p.m. There will be one matinee performance beginning at 2 p.m. on Sunday, April 30. General admission is $10. Students and Seniors are $8. A limited number of HSU students are admitted for free. Parking is free on weekends. Recommended for high school age or older. For tickets, please call 707.826.3928. For more information, call the HSU Theatre, Film and Dance Department at 707.826.3566.