Biological Sciences Professor Amy Sprowles and Wildlife Professor Matthew Johnson have received a Faculty Innovation and Leadership Award from the California State University for their transformative work in Place-Based Learning Communities at Humboldt State University.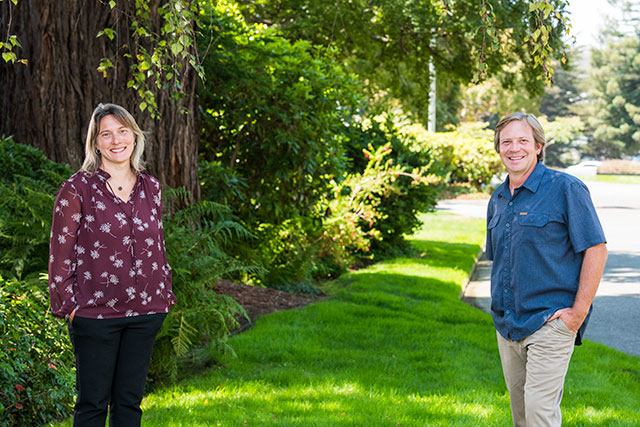 Professors Sprowles and Johnson are champions for equity in science, technology, engineering, and mathematics (STEM), with particular passion for creating welcoming and supporting environments for traditionally underrepresented students. Motivated by Humboldt State's 2013 designation as a Hispanic­ Serving Institution, by subsequent campus-wide strategic planning, and by the interdisciplinary learning communities developed at Evergreen State College, Sprowles and Johnson developed a vision for a unique community of welcome and support to our first-year students.
They found an ideal partner for implementing their vision in the STEM Collaboratives Project, a CSU Office of the Chancellor managed project funded by the Helmsley Charitable Trust. They became the lead faculty from Humboldt State charged with "implementing high-impact practices to create a supportive environment for first-year STEM students." Their signature program, The Klamath Connection Learning Community, launched in August of 2015.
The preliminary data from the launch of the Klamath Connection learning community showed significant increases in student's sense of belonging and in student's academic performance, when participants were matched with comparable non-participants. To see reports and presentations about Place Based Learning communities, visit this website.
These early promising indicators propelled Sprowles and Johnson to seek additional support for expanding place-based learning communities. In Fall 2016 with Sprowles and Johnson as Principal Investigators, HSU was awarded a large grant from the U.S. Department of Education's Hispanic Serving Institutions STEM Program, and another in Fall 2017 from the Howard Hughes Medical Institutes Inclusive Excellence Initiative in 2017.
This combination of support is funding the development and refinement of learning communities to the entire incoming first-time student class in the College of Natural Resources & Sciences. The Klamath Connection, in its fifth year, serves students with majors in Wildlife, Fisheries Biology, Forestry, Environmental Science & Management, and Environmental Resource Engineering. In 2017, Stars to Rocks began serving students in Physics & Astronomy, Chemistry, and Geology majors. In 2018, Rising Tides began serving students in Marine Biology and Oceanography. In 2019, Among Giants began serving students in Biology, Botany, and Zoology, and in 2020, Representing Realities will serve students in Mathematics and Computer Science.
Sprowles, Johnson, and their colleagues recently had a paper published in the journal Innovative Higher Education that reports on the positive impacts of the first three cohorts of the Klamath Connection Program. You can read the paper here.
"Professors Sprowles and Johnson have cultivated a sense of belonging in our rural isolated location, connecting students to the rich natural resources and cultures of California's North Coast," says HSU President Tom Jackson, Jr.
"Since HSU is located on the ancestral land of the Wiyot people and HSU's service region includes nine federally recognized American Indian tribes, the learning communities weave critical cross-cultural learning experiences into an inclusive and integrated STEM environment designed to better support student success and to engender values of personal, professional, and social responsibility."
This is the third year in a row that HSU professors have been recognized with the Faculty Innovation and Leadership Award. Read about previous winners who champion violence prevention and solutions to food and housing insecurity.
Awardees receive $5,000, as well as $10,000 allocated to their academic department in support of ongoing innovation and leadership to advance student success at the CSU. Funding for the awards is provided by generous grant support from the College Futures Foundation, which sees faculty innovation and leadership as vital to improving outcomes for California's diverse students.
Read bios for each awardee on the Faculty Innovation and Leadership Awards website.
Faculty innovation is crucial to reaching the ambitious student success goals outlined in the CSU's Graduation Initiative 2025. This university-wide effort advances specific goals to eliminate equity gaps and significantly improve degree completion.
>>RELATED LINKS: HSI STEM grant | Learning Communities Build a Sense of Place & Belonging | $1M from Howard Hughes Medical Institute for STEM Initiative | New Learning Communities Explore Culture, Identity, and North Coast Biology <<