Lucia Boyer picked up the tiny jellyfish with tongs and dunked it into a bath of liquid nitrogen. With the cauldron still smoking and sizzling, she transferred the frozen organism into a freeze dryer, where low temperature and a vacuum would eventually transform the ice directly into gas.
"Now we wait 24 hours and see what happens," she said, closing the freeze dryer door and removing her lab goggles.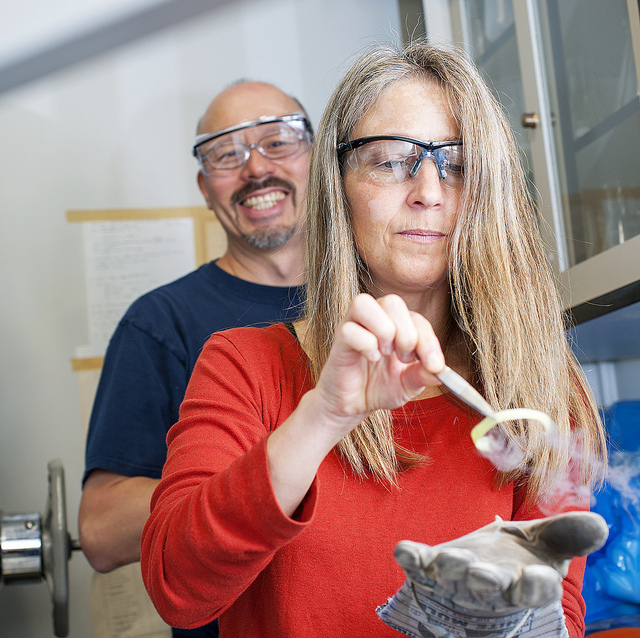 Boyer, a science teacher at Eureka Senior High School, was among a handful of local middle and high school science teachers who recently participated in a professional development program at HSU led by Biology professor Casey Lu through the Redwood Science Project (RSP).
The purpose of the 3-day workshop was to give local educators a chance to network and enhance their curriculum through lab demonstrations and use of HSU's electron microscopes.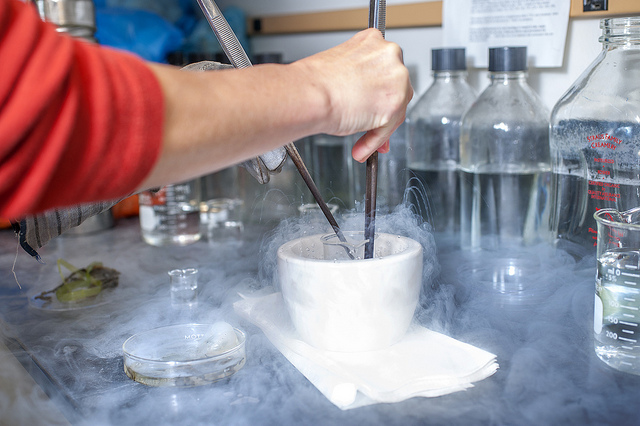 During the course of the program, participants learned how to prepare their own specimens for microscope imaging and produce digital images of their samples. At the end, they walked away with copies of their micrographs to use in the classroom. The micrographs included up-close shots of fingerprints, human cheek cells, dragonfly legs and a tarantula fang.
Jessie Hobba ('00, Biology and Zoology), a 7th grade science teacher at Sunny Brae Middle School, anticipated the images would be a huge hit with her class. She said it's often hard for middle and high school students to grasp the practical applications of science, "but when they can see real-world samples like this with their own eyes it's really enticing."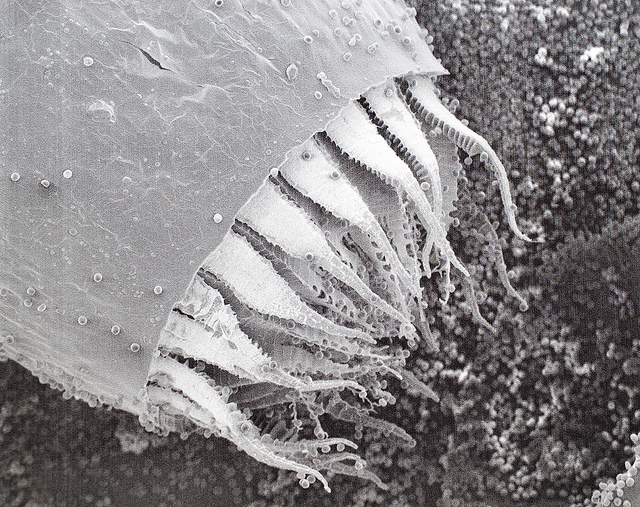 HSU has four electron microscopes on campus, made possible through individual grants, university support and the National Science Foundation. They include one Quanta 250 scanning electron microscope, a high-tech instrument that uses electrons to create a highly detailed surface scan of an object (ESEM), two scanning electron microscopes (SEMs) and one transmission electron microscope (TEM). In coming years, the university will allow local science teachers to operate the Quanta remotely during field trips to the Natural History Museum.
HSU also has a long history of engaging local science educators through the Redwood Science Project. RSP provides professional development workshops, coaching and leadership development. Special programs focus on curriculum enhancement and media production. The RSP also conducts evaluation and research for education programs.
For more information, visit humboldt.edu/rsp.