Humboldt State student journalists received three first place regional awards from the Society of Professional Journalists this month for their work published in 2020. They also received two finalist honors.
El Leñador and The Lumberjack newspapers and Osprey magazine were recognized as some of the best student publications in a region that includes Arizona, California, Guam, Hawaii, Nevada, and the Mariana Islands. The Society of Professional Journalists (SPJ) is a nationally recognized authority for establishing best practices in the journalism profession. The SPJ's Mark of Excellence Awards honors the best of student journalism.
Image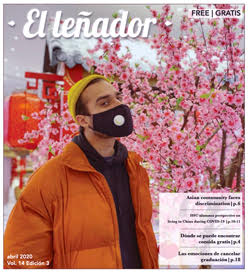 El Leñador, HSU's bilingual newspaper, received top honors as the Best All-Around Student Newspaper. Nancy Garcia is one of three student editors-in-chief of the monthly newspaper this Spring. "Winning this award means that people, even outside of this community, recognize the important work that our team puts into producing El Leñador," says Garcia."Spanish-speaking people in Humboldt County don't have many sources to turn to for news and information so we're trying to bridge that gap, especially in the pandemic."
Osprey magazine reporter and photographer Julie Navarro won the Feature Photography award. Julie Navarro's photos in "Black Lives Matter: The digital mobilization of citizen journalists" capture citizen journalists at BLM protests in Los Angeles. Navarro is a Critical Race, Gender & Sexuality Studies major and this was her first time working on the student magazine.. "I really wanted to share something that would be meaningful for all to see," Navarro says. "It means a lot to me being part of documenting history."
The Lumberjack weekly student newspaper won the Online/Digital Sports Videography award. Dakota Cox was the Life & Arts editor last fall when he and fellow staff members Skylar Gaven and Thomas Lal produced the winning video "San Jose State University football team comes to Humboldt." "It was extremely rewarding to work together on a story with such an immediate and dramatic impact on campus," Cox says. "We wanted to shed light on how the decision to allow SJSU to come here was affecting HSU students."
Finalists for the SPJ Mark of Excellence Awards
El Leñador reporter and artist Kassandra Rice was a finalist in the Editorial Cartooning category for her COVID-19 cartoons. Rice, a Political Science major and 2020 graduate, said "This award inspires me to show my art to the world."
Thomas Lal, The Lumberjack's current editor-in-chief , was a finalist in the Breaking News Photography category for his work, "Eureka protests erupt after George Floyd murder," published just days after Floyd died in Minneapolis. "Breaking news is one of those things that I feel like I'm pretty decent at capturing," Lal said. . "So to have it recognized tells me that I'm doing something right."
Students in El Leñador, The Lumberjack and Osprey published print and online editions despite the challenges of virtual reporting and learning during the COVID-19 pandemic. Journalism faculty media advisers are Andrea Juarez at El Leñador, Deidre Pike at The Lumberjack and Jessie Cretser-Hartenstein at Osprey.
HSU publications were awarded in categories with colleges or universities with enrollments under 10,000 students. See the full list of awards