Gregory Manata knows firsthand the kind of difference just one teacher can make.
Manata's high school science teacher in Paso Robles, Ca. recognized his interest in the biological sciences early on and encouraged him to apply to Humboldt State.
Shortly after arriving at HSU, professor Mark Wilson observed Manata's passion for science and encouraged him to become a peer instructor in biology. Manata spent hours developing lesson plans and finding creative ways to share his love of science with other HSU students.
"I'd create Jeopardy-style games, crossword puzzles, any kind of engaging material to help the students learn the material better," he says.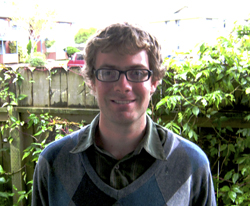 For his commitment to student teaching and inspiring attitude, Manata recently received the California State University's 2013 Crellin Pauling Teaching Award, which recognizes one outstanding student teacher a year in the field of biotechnology.
"I think when a lot of people think back to learning biology in high school, they unfortunately remember yawning, sitting in a classroom and being bored," says Manata, who was nominated for the award by Professor Wilson. "What I've learned is that it doesn't have to be that way."
Manata, who received his undergraduate degree in biology from HSU in 2011, is pursuing a post-graduate teaching credential through the university's newly-revamped secondary education credential program. The new, one-year curriculum combines online instruction with classroom training to prepare students to teach in grades 7 through 12.
The 38.5-credit program includes a semester of observation in a local high school classroom, followed by a semester of student teaching. Manata, who recently completed a semester of observation at Arcata High School, says the hands-on curriculum has opened his eyes to the rewards and challenges of teaching high school biology.
"I've had a great teaching role model in [Arcata High School Biology teacher] Cindy Condit," says Manata, who will help teach Condit's introductory biology class next semester. "What I hope to do as a teacher is incorporate practical lab techniques and inquiry based projects," Manata says. "I want students to learn skills they can take with them into college and into the future."
Manata will receive the $1750 Crellin Pauling Student Teaching Award at the 25th Annual CSU Biotechnology Symposium this January in Anaheim, Ca.
Granted by the CSU Program for Education and Research in Biotechnology (CSUPERB), the Crellin Pauling Student Teaching Award acknowledges outstanding student teaching by a California State University student in biotechnology. The award is named after Crellin Pauling, a former professor at San Francisco State University, who was known for his commitment to training teachers and scientists and creating a scientifically literate electorate. For more information on the award, visit YouTube.
For more on CSUPERB, visit calstate.edu/csuperb.