HSU students Derrick Hicks ('13, Business) and Graeme Lock ('17) won the FLW College Fishing Western Conference Invitational on Clear Lake Oct. 12, qualifying them for the 2014 national championship.
Image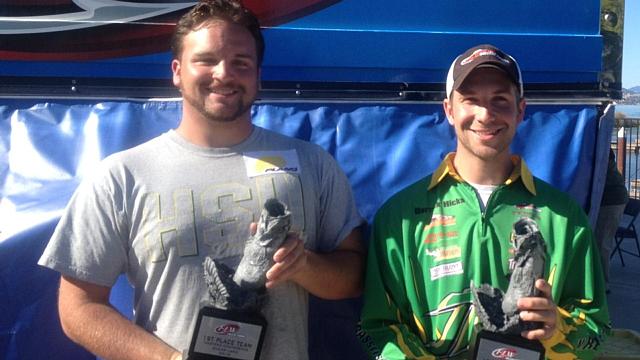 Their two-day total of 10 bass weighing 41 pounds, 10 ounces earned the Humboldt State bass-fishing club $4,000 and qualified them for the 2014 FLW College Fishing National Championship, March 6-8 on Lake Keowee, Seneca, S.C.
"We fished a stretch of bank that was maybe 30 or 40 yards long," Hicks told FLW College Fishing. "The key was staying on those fish."
"I'm pretty excited," Hicks added. "This is the first tournament I've won and the last season I'm fishing. I graduate in December. I've come close a few times, but I finally pulled it off and it feels good."
FLW College Fishing is a nationwide competitive bass fishing program open to full-time students at four-year colleges and universities. It consists of 15 qualifying events, five invitationals and a national championship. The top 10 teams from each conference invitational tournament advance to the 2014 FLW College Fishing National Championship.