Humboldt State University undergraduates are busy investigating local water quality, marine sedimentation and ocean nutrients under a CSU pilot project that harnesses federal work/study funds. Student research is under way at multiple locations, including Humboldt Bay, the Eel River and off Trinidad Head.
The budding Humboldt State program, sponsored by the CSU's system-wide Council on Ocean Affairs, Science and Technology (COAST), is aimed at involving more undergraduates in career-oriented work/study programs that leverage federal financing with COAST seed money in the thousands of dollars. The money funds student stipends.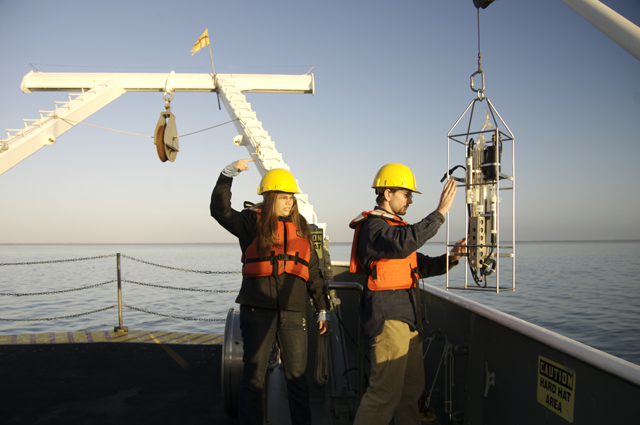 HSU Environmental Resource Engineering students Adam McGuire and Chuck Swanson are collecting data from a Humboldt Bay Dock B water quality logger. It measures temperature, salinity, dissolved oxygen, turbidity, chlorophyll and other parameters. The students are probing for links between Dock B turbidity and laboratory-based measurements. Their research is part of a larger monitoring program of California coastal waters.
"Years of turbidity readings, taken every 15 minutes, can eventually be used to understand suspended solid concentrations in Humboldt Bay over the same period of time," explains faculty mentor Matthew Hurst, an assistant professor in HSU's Department of Chemistry, partnered with Professor Frank Shaughnessy in the Department of Biological Sciences. "Adam and Chuck are also measuring other water quality parameters to help understand how light is transmitted through the water column. This has implications for biology in Humboldt Bay, like eel grass and oysters," according to Hurst.
Swanson lauds the combination of classroom with field experience, plus the advantages North Coast geography provides for scientific investigation. "Working on a research project while doing undergraduate studies has been a great way to apply skills learned in a classroom setting to larger-scale practical environmental applications," he says. "Humboldt Bay provides a good opportunity for marine research that has implications in many fields, including biology, chemistry and engineering. In particular, our project involves solids analysis. We hope to use it to formulate a model for water quality in the bay, by correlating remote sensing data to data gathered in the lab. We get the chance to learn and practice lab techniques while gaining insight from researchers on current local and global environmental issues."
Undergrad David Phillip, teamed with Oceanography Professor Jeffry Borgeld, is examining the Eel River's delivery of suspended sediments and particulate organic carbon to the coastal ocean. They want to learn the timing of the particulate's delivery and what happens to it in the ocean environment.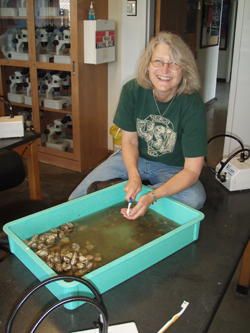 "I'm analyzing Eel River samples to characterize particulate discharge to the coast," Phillip says. "Suspended samples were collected at two- to three-hour intervals throughout the largest storm of the past winter. Given the potential impact on the timing of the suspended particulate supply to the ocean, we need to measure the magnitude of the effect and gauge its impact on the marine environment."
Junior oceanography student Chris Reinsch, Jr. is participating in a broader probe of ocean acidification along the North Coast. Acidification affects the nutrients that are important to the growth of phytoplankton in coastal waters. He performs the analytical work for samples collected along a transect line off Trinidad Head. Mentored by Jeffrey Abell, assistant professor of oceanography, Reinsch is helping other members of the project team at various CSU campuses to measure acidification's impact.
Local research is also going on at the graduate level. Evidence presented at a recent COAST conference at the CSU Chancellor's office in Long Beach by Humboldt State grad student Julie Koeppel of Eureka and Associate Professor of Biological Sciences Sean Craig suggests that predators are a big part of the problem in re-establishing native oyster reefs in Humboldt Bay. Their research is aimed at restoration of the bay's native oyster species.
Cal State Los Angeles is teamed with Humboldt State in the COAST project. Recruitment for Fall 2011 participants will be announced shortly by Humboldt State Associate Dean of Marine Facilities James Howard.
Under the pilot program, five $1,200 work/study awards are supporting HSU student research with their faculty mentors this spring. COAST has provided 25 percent of the total $6,000 of financing to date.
"We'll begin recruiting students pretty soon for another pilot project group this fall," says Howard, who is liaison with COAST's executive committee and its member CSU presidents. To qualify, students must be at least juniors and already engaged in faculty-mentored research.
"If we at HSU and Cal State Los Angeles can prove that this is a successful model that allows us to leverage federal work/study funds in a more meaningful way, we could expand the project to the other 21 California State campuses," predicts Howard. "We'll review it with them this fall, and I'd love it if we had 20 or 30 students a semester at HSU, and hundreds more system-wide. I assume this could be expanded as well to other disciplines beyond the marine sciences."