On the bottom floor of Science D, a group of students sat in small groups discussing water turbidity, pH levels, mineral content and energy consumption.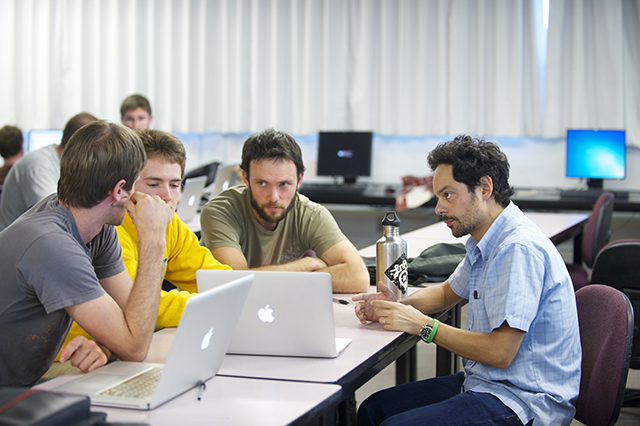 The students were part of ENGR 492, professor Andrea Achilli's environmental resources engineering capstone design class.
Over the course of the next few months, Achilli and his students will design a power generation facility for the Humboldt Bay Municipal Water District. The facility will harness a promising form of sustainable and renewable power called blue energy.
Blue energy is naturally released during osmosis, such as when a river flows into the ocean. The freshwater is naturally drawn to the saltwater, creating a buildup of pressure.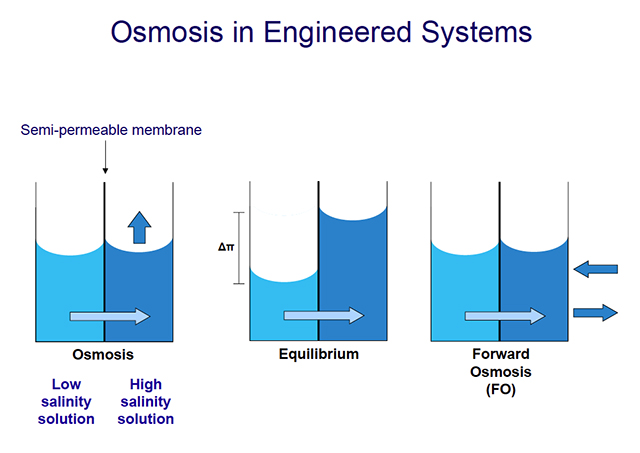 One way to recover that energy is through a process called pressure-retarded osmosis (PRO). During PRO, freshwater is drawn through a semi-permeable membrane into a saltwater solution. Power is generated by releasing that pressure through a turbine.
Achilli and his students are assessing the technical and economic feasibility of constructing a PRO facility at the site of the old Samoa Pump Mill. Their plant would draw water from Humboldt Bay into the Pacific Ocean, generating large amounts of renewable energy.
Blue energy is a promising form of renewable energy because it is emissions-free, and unlike wind and solar power, it doesn't depend on favorable weather conditions, Achilli says.
It has also gained a lot of traction in recent years. In 2009, Norwegian company Statkraft completed the world's first osmotic power plant and in 2011, researchers at Stanford University announced that osmotic power had the potential to meet 13 percent of the world's energy needs.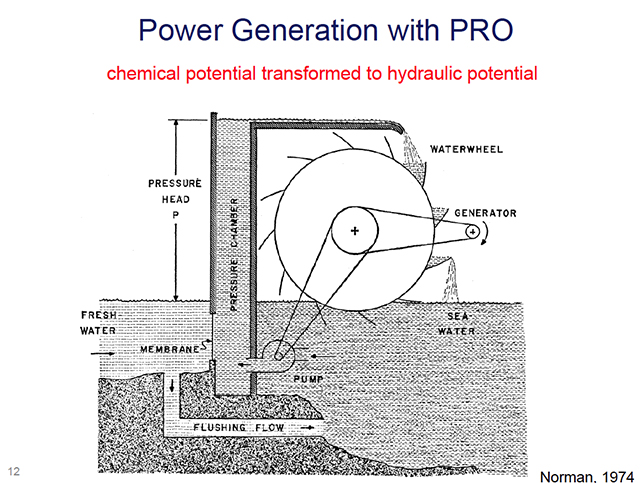 Achilli's students are getting hands-on experience collaborating with a client and managing a project from inception to completion.
"We've pretty much been working from the ground up," says Chuck Swanson ('13, Environmental Resources Engineering). "Our involvement has been everything from trying to assess the site's infrastructure to testing a technology that has never been tested before."
"It's pretty exciting to be a part of such novel and promising research," says Meghan Heintz ('13, Environmental Resources Engineering), a student in Achilli's class. "It's also exciting because Professor Achilli is a leading expert in the field." Achilli's co-instructor, lecturer TK Williams, also brings a wealth of real-world experience.
Before joining HSU, Achilli studied membrane-based energy systems—as both a graduate student and post-doctoral research associate—at the University of Nevada, Reno. His current research focuses on membrane contactor processes and hybrid systems, renewable and sustainable energy systems and biological processes for water and wastewater treatment.
Results from the course will determine whether it will be possible to house the first river-to-sea PRO facility in the United States at Humboldt Bay.