Come ride to your heart's delight! On Tuesday, Dec. 15, engineering students at Humboldt State University (HSU) will unveil their Smooth Ridin' bike-powered blender to the campus community.
Image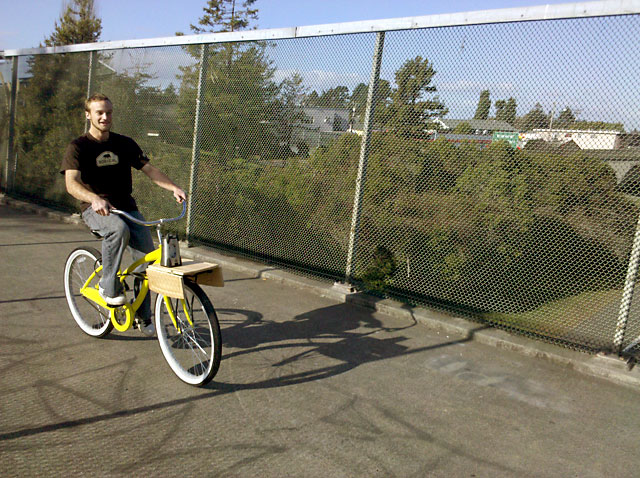 Students enrolled in Engineering 215 Introduction to Design were approached by the Health Education Division of the Humboldt County Department of Health and Human Services' Public Health Branch. One of the student teams was challenged to design a bicycle-powered blender. The bike-blender will be used to build awareness of healthy eating and physical activity, as well as promoting sustainable transportation options.
The bike-blender will be used by a number of health-promotion programs. The main user will be the Northcoast region of the Network for a Healthy California (NHC). The Network is made up of local, state and national partners working toward improving the health of low-income Californians through increased fruit and vegetable consumption and daily physical activity.
The bike-blender demonstrates a fun way of making a healthy smoothie while getting some physical activity. It also illustrates the idea of "active transportation"- biking, walking, and other non-automotive modes of transportation.
Michelle Postman, Health Education Specialist for the Network for a Healthy California, plans educational events promoting healthy eating and physical activity. When asked how she feels about the new blender Postman replied, "The bike-blender is such a fun way to show people how to make easy recipes they can try at home. It's a great conversation starter to talk about healthy eating and being physically active, as well as promoting self-powered transportation."
Environmental Resources Engineering instructor and President of the Appropedia Foundation Lonny Grafman provided direction through the design process to the engineering students. Grafman stated, "This innovative bike blender highlights what happens when student work is provided traction in the community."
Postman approached HSU's Grafman knowing he was involved in student learning projects and HSU's Campus Center for Appropriate Technology (CCAT). Project mentoring was provided by local bike power expert Bart Orlando. The bike blender incorporated the needs of the client by combining a usable bike, bike trainer stand and the unique use of a flexible drive shaft. The bike has a foldable cutting board with a lightweight blender attached, allowing it to be portable.
The collaborative project between HSU and the Humboldt County DHHS-Public Health Branch has given students the opportunity to develop a project that will be put to use out in the community. Come see the bicycle blender and other student innovations at the public award ceremony on the HSU campus from 2 to 3 p.m. on Tuesday, Dec. 15, at the Campus Center for Appropriate Technology (CCAT). For more information, contact Lonny Grafman at lonny@humboldt.edu, (707) 826-3649.