A Humboldt State University student took home a second place award at the 35th Annual California State University Student Research Competition, held virtually at Cal Poly Pomona this year.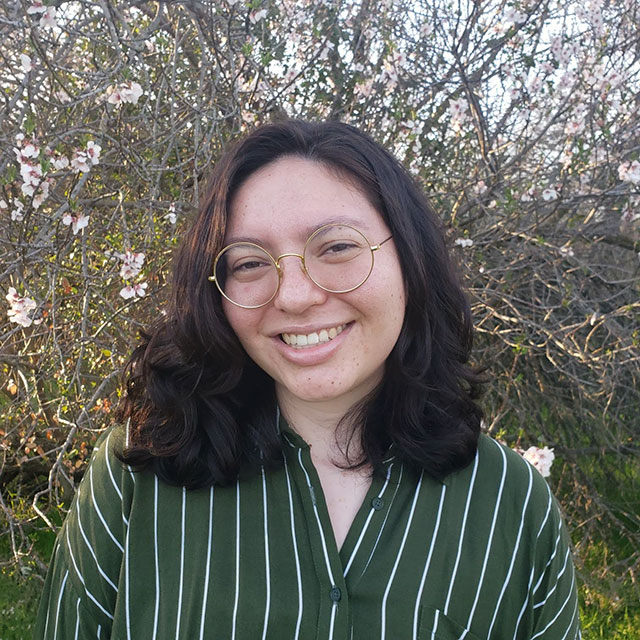 Joan Esquibel, a Religious Studies major, won second place for an undergraduate student in the Humanities and Letters category. Esquibel won for her project: "Best-Sellers: How our Concerns Translate into Modern Fiction." She was advised by Religious Studies professors Vincent Biondo and Sara Jaye Hart. You can watch Esquibel's presentation here.
In total, 13 students represented HSU at this annual statewide competition, which involved more than 200 outstanding student researchers from the 23 CSU campuses who competed for research awards in discipline-based categories.
"These outstanding students are all passionate about their research, which represents the academic rigor of all three colleges at HSU," says Kacie Flynn, Interim Executive Director of the HSU Sponsored Programs Foundation. Flynn also praised the students' faculty advisors. "HSU faculty are dedicated to integrating research into the students' education and serve as mentors to our students. Even with the added challenges this year has brought us, they remain committed to ensuring our student researchers succeed."
The other students who competed in the 35th Annual CSU Student Research Competition were:
Sophia Lemmo, Graduate in Forestry, Watershed, and Wildland Sciences:
"Tree Mortality and Regeneration across Competitive Gradients and Varying Habitats in Northern California"
Faculty advisors: Lucy Kerhoulas, Assistant Professor in Forestry and Wildland Resources, and Rosemary Sherriff, Professor in Geography
Levi Basist, Graduate in Kinesiology & Recreation Administration:
"Wingate Muscular Power Test Reference Values for Active Healthy Adults Ages 19-35:
Normative Data And Differences Between Sex"
Faculty advisor: Young Sub Kwon, Associate Professor in Kinesiology & Recreation Administration
Aneika Perez, Graduate in Environment & Community:
"Sustainable Transportation for HSU Stakeholders: Looking into Access and Behavior"
Faculty advisor: Nicholas Perdue, Assistant Professor, Geography
Chavela Riotutar, Graduate in Kinesiology & Recreation Administration:
"The Effect of Quality of Life on Cardiometabolic Risk Factors in Postmenopausal Women"
Faculty advisor: Taylor Bloedon, Associate Professor, Kinesiology & Recreation Administration
Samantha Cook, Graduate, and Mikayla Kia, Undergraduate in Environmental Science & Management:
"Exploring the Effects of the Coronavirus (COVID-19) Pandemic on Fishing Communities and Fisheries Social Science Research in California"
Faculty advisor: Laurie Richmond, Associate Professor, Environmental Science & Management
Jason Laugesen, Undergraduate in Anthropology:
"Ceramic Chronology: A Geospatial Analysis of Material Culture in the Hinterlands in Northwestern Belize"
Faculty advisor: Marisol Cortes-Rincon, Professor in Anthropology
Grace Fillebrown and Luke Gauthier, Undergraduates in Child Development:
"International and Intercultural Collaboration in Experiential Learning: Lessons from Rural Youth Volunteers in India Project"
Faculty advisor: Meenal Rana, Associate Professor in Child Development
Shawn Reilly and Reed Switzer, Undergraduates in Kinesiology & Recreation Administration:
"Cannabis Tourism in Humboldt County: Moving Forward"
Faculty advisor: Ara Pachmayer, Assistant Professor, Kinesiology & Recreation Administration
Dylan Roberts, Graduate in Kinesiology & Recreation Administration:
"Anaerobic Capacity Measures in Active Healthy Adults Ages 18-29: Normative Reference Values and Differences between Sex"
Faculty advisor: Young Sub Kwon, Associate Professor in Kinesiology & Recreation Administration