Humboldt State University is now accepting registrants for the Redwood Summer Arts Institute, a series of intensive artists' workshops held July 10-12 and July 17-19 on the HSU campus.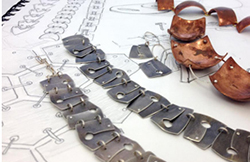 Taught by HSU faculty members who are also renowned in their fields, the institute exposes participants to a variety of art forms, including digital photography, ceramics, painting, recycled art, acrylic portraiture, and body casting.
Students work one-on-one with industry professionals in HSU's facilities, including its painting studios, sculpture fabrication, jewelry, ceramics, and state-of-the-art computer labs.
"This is a one-of-a-kind experience in the middle of the spectacular natural beauty of Humboldt County," says Benjamin Funke, institute director and a lecturer in HSU's Art Department. "With the aid of our roster of accomplished artists and educators, we have developed an exciting multimedia curriculum for 2015 that reflects the diversity of the contemporary creative environment."
The summer session will include courses taught by the following HSU faculty members:
Digital Photography with Dave Woody
Acrylic Portraiture with Gina Tuzzi
Low-Fired Ceramic Surfaces with Keith Schneider
Photoshop Bootcamp with Rick Febre
Body Casting Workshop with Sondra Schwetman
Jewelry Making with Justin Klocke
The Redwood Summer Arts Institute comprises eleven classes held over two sessions: July 10-12 and July 17-19. Registrants can sign-up for one class per session but are not required to sign-up for both sessions. Some classes are sequential.
Classes are open to students of all ages and skill levels, but space is limited. Fees are $275 per class and $295 per class after April 15th.
For a full list of classes, visit redwoodsummerartsinstitute.org. For more information, visit facebook.com/redwoodsummerartsinstitute, or email summerarts@humboldt.edu.