Sustainability is the recognition that humanity is a part of the natural world, not separate from it, and that healthy social and economic systems depend on the health and resilience of ecological systems.
HSU's annual Sustainability Champion Awards recognize members of the campus community that have worked to deepen a culture of sustainability, have furthered the integration of sustainability into academics, student life, or campus culture, and have helped reduce HSU's environmental footprint. Our 2020 award winners each embody a spirit of innovation, collaboration, and leadership to create solutions to pressing challenges facing the campus and society.
Each award winner was presented with an art piece made by local artist Katie Belknap from upcycled materials.
Image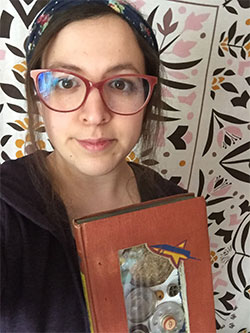 2020 Student Award Winner: Saraí Escalante-Castro
Saraí Escalante-Castro is a graduate student in the Department of Psychology, Academic Research division with an emphasis in Social Psychology. Escalante-Castro has turned her passion for social and environmental justice into action, through her work as an assistant coordinator with El Centro Académico Cultural, as president of the Humboldt State Vegan Club, as a leader with last year's Climate Strike, and as a co-presenter on a workshop entitled "Speciesism as a Social Justice Issue" at the 2020 Social Justice Summit. Escalante-Castro plans to eventually get her doctorate degree in Environmental Psychology to further investigate our relationship with nature and how we can improve our behaviors to protect the environment and our communities. For fun Escalante-Castro enjoys painting, spending time with her best friend, Venice (her dog), and watching Marvel movies.
Image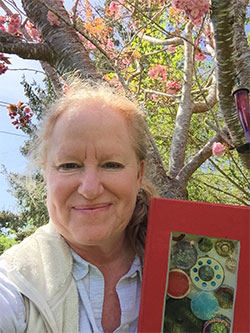 2020 Staff Award Winner: Stacy Becker
Stacy Becker is Community Partner Coordinator in the Center for Community Based Learning, where she infuses her work and community service with a commitment to equity and environmental protection. Throughout her 10 years at Humboldt State, Becker has facilitated countless opportunities for students to engage with community partners, to address community needs, and to restore the environment. She coordinates events, such as the Environment Community Mixer, for students to learn about internship and career opportunities with local organizations. She assisted with the development of the Sustainability Practitioners Directory, used by faculty across campus to find local sustainability professionals to support students inside and out of the classroom. Beyond campus, Becker participates in numerous equity groups, including the McKinleyville Alliance for Racial Equity and the Equity Alliance of the North Coast. In her spare time, Becker coordinates the Hammond Volunteer Trail Stewards project, paints watercolors, plays guitar, and gardens.
Image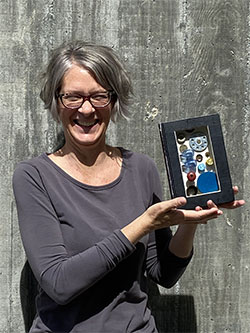 2020 Faculty Award Winner: Julie Alderson
Professor Julia (Julie) Alderson teaches and conducts research within the Department of Art. As Chair of the Integrated Curriculum Committee, Alderson has played a pivotal leadership role in the development and adoption of two institutional learning outcomes that will lead to more students graduating with the skills and knowledge to be leaders in sustainability and social justice in their own communities. These are:
Equity and Social Justice: HSU graduates will be able to identify and evaluate systems of power and privilege and identify methods for creating diverse, inclusive, and racially just and equitable communities.
and
Sustainability and Environmental Awareness: HSU graduates will be able to explain how the functions of the natural world, society, and the economy depend on the resilience, sustainability, and conservation of ecological systems.
The impact of these new learning outcomes is far-reaching and will lead to more courses incorporating sustainability and social justice content. In her free time, Alderson enjoys teaching spin classes at HealthSport, going to museums, and reading.
The HSU Office of Sustainability sponsors the annual Sustainability Champion Awards. Each year's award winners are selected from a pool of nominations by a committee of previous winners and Sustainability Office staff members. For more information on sustainability at HSU, visit the Office of Sustainability website.