Bearing pillows, comforters, surfboards, and their favorite house plants, new and continuing Humboldt State University students moved into residence halls last week ahead of today's official start to the Fall semester.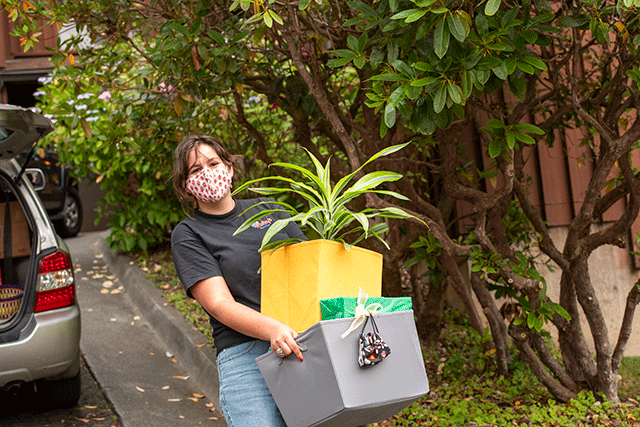 HSU joins hundreds of colleges and universities across the country that are welcoming back more students, staff, and faculty to campus.
Like last Fall, stringent health and safety protocols remain in place at HSU, including mandatory vaccinations for students, staff, and faculty, plus universal masking and virtual instruction for the first two weeks of the semester followed by limited in-person classes. The Student Health & Wellbeing Services will offer testing and vaccination clinics and large campus events are on hold for the near future. More at campusready.humboldt.edu
With these measures comes a sense of normalcy. For the first time in a long time, all eateries are open, as are all buildings, and student clubs and activities have returned.
The timing couldn't be better for HSU's newest Lumberjacks, who are eager to experience campus life and Humboldt has to offer.
See the 2021 Move-In Day Photo Gallery
First-time student Madison Flores of Riverside, California couldn't wait to explore Humboldt's natural surroundings. "It's the perfect balance between the forest and the ocean. Everybody's so welcoming here and I'm really excited."
In addition to HSU's location, Flores was impressed by HSU's academic offerings. The University's potential future as a polytechnic and plans to expand academic programs drew her to HSU as well. "I chose Humboldt because of the amazing academics," says the Business Administration major. "I'm super excited for the new polytechnic additions."
While students may be the stars of Move-in Day, their families play important supporting roles, providing advice, emotional wisdom, and an extra pair of helping hands.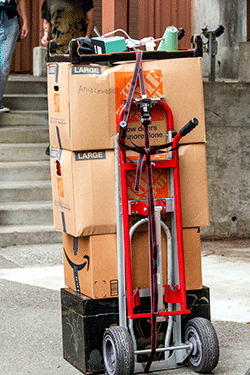 Such was the case for the parents of first-time HSU student, Mary Wasinger, from Eugene, Oregon.
"I want to tell her not to sweat the small stuff because there's a lot of small stuff that looks a lot bigger until you deal with it," says Wasinger's father, Greg. "I'm excited for her to be here. It's everything she wants in a college," says Wasinger's father, Greg. "Even though we don't know the area very well, we know a lot of people who have had good experiences, so I'm really excited for her."
Proving that it takes a village to move in, one student showed up with an intimidating stack of boxes and nine helpful family members in tow.
As always, HSU staff were also on hand to check in students, direct them to their residence halls, and welcome them to campus. In total, approximately 1,500 students have moved onto campus — about 70 percent of the full capacity of campus housing.
"It's so wonderful to see students on campus," says Steve St. Onge, associate vice president of student success. "Their smiling faces show how eager they are to be here."