A new statewide traveling exhibition of photographs by artist Dugan Aguilar (Mountain Maidu/Pit River/Walker River Paiute) that depict the diversity, richness and vibrancy of contemporary Native California cultures comes to Humboldt State University's Goudi'ni Gallery. lo/Jemez Pueblo) on Friday, Nov. 13, from 5 to 7 p.m. The public is invited to attend.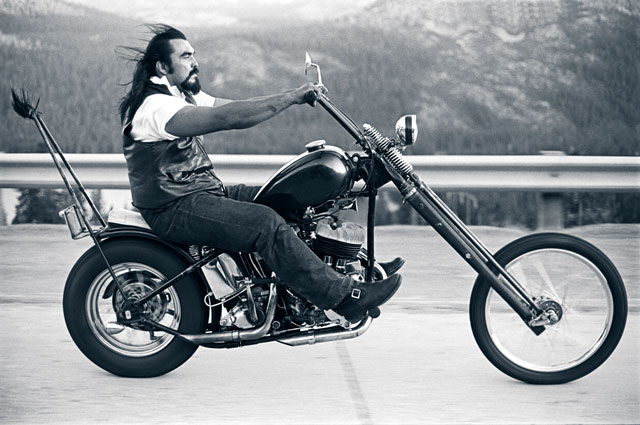 The exhibition, She Sang Me a Good Luck Song, is based on the Heyday Books publication of the same name, and will be showcased in the Goudi'ni Gallery from Thursday, Oct. 22 until Saturday, Dec. 12. A reception will be held, for the artist, Dugan Aguilar, and curator, Theresa Harlan(Kew Pueb
"The images made by Dugan remind us that there are things that never change, and are worth remembering and believing," notes artist and Sacramento State University emeritus Professor Frank LaPena (Nomtipom Wintu). Through his portrait and landscape photographs, Dugan Aguilar has been documenting the Native cultures of North America for over 40 years. His work has traveled to Europe and throughout the United States with the intent of showing Native cultures as they are rather than perpetuating romanticized narratives. Some of the subject matter includes veterans, motorcyclists, and artists rather than cultural relics of a bygone era.
This exhibit is supported by the Native Cultures Fund of the Humboldt Area Foundation and Heyday Books, and is toured by Exhibit Envoy. The Goudi'ni Gallery is located on the first floor of the Humboldt State University Behavioral Sciences building (BSS). The gallery is open Monday, Tuesday, and Wednesday from noon to 5 p.m., Thursday noon to 7 p.m., Friday noon to 5 p.m., and Saturday 10 to 2 p.m. Admission is free. For more information, please contact the gallery office at (707) 826-5814 or email the gallery at rbg@humboldt.edu.