The 2020-21 Outstanding Student Awards recognize the academics and achievements of HSU's outstanding students during an incredibly challenging year.
Congratulations to this year's winners and nominees!
Overall Outstanding Students of the Year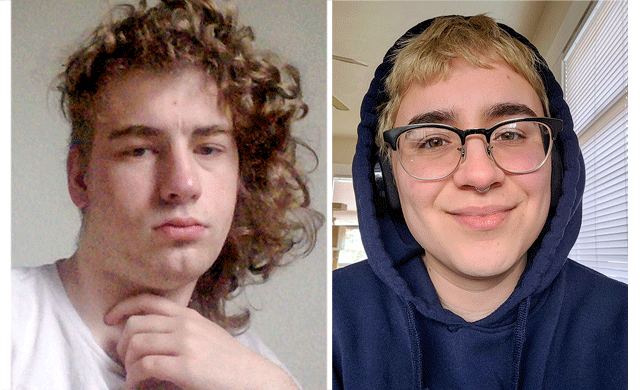 Outstanding Student of the Year (Academic): During their time at HSU, senior Seth Mattingly (Music) has performed in every major musical group available on campus including the jazz orchestra, jazz combos, wind ensemble, calypso band, percussion ensemble, and the University Singers. In total, Seth has participated in 27 semesters of performances by contributing multiple groups each semester.
As comfortable playing jazz as performing with classical and chamber ensembles, Seth has also shined as a marimba, timpani, drumset, snare drum, and multiple percussion soloist. Featured in numerous Music department recitals, including the prestigious honors recital, Seth's professional commitment to music is consistently on display.
Seth is also an accomplished composer, bringing a passion for scholarship and performance when composing original music. Always the "go to" musician on campus when anyone needs a talented player, Seth is also an informal mentor in the Music department, offering peers guidance and support on coursework and music theory. One nominator writes that Seth "models excellence at the highest level" with maturity and respect for their peers and teachers.
Currently, Seth is the Student Assistant for the Percussion Studio, which requires maintaining HSU's vast inventory of percussion equipment, practice schedules, and rehearsals. Seth also donated their time as an assistant during the Northern California Band and Choral Director Association Festival and the California Music Educators Association Band Festival.
Nominating faculty praise Seth for their generosity and a natural sense of curiosity that shines in every moment of practice and performance.
Outstanding Student of the Year (Co-curricular): Faculty call senior Roman Sotomayor (Philosophy and Religious Studies) an insightful student with an admirable work ethic and unwavering commitment to his peers and social justice on campus. An active member of the HSU student body, Roman sits on several Associated Students (A.S.) committees and chairs the Diversity, Equity & Inclusion committee. Last year, he was elected as the Social Justice and Equity Officer for the 2020-21 academic year.
Among his passion projects is helping to develop the Student Legal Lounge, which offers free legal services to all students, and advocated for the Trans, Gender Non-conforming, Non-binary Task Force. He brings a justice-driven perspective to issues like sharps disposal and antiracism on campus. Over the past year of virtual instruction, Roman worked closely with faculty and staff to humanize online learning and increase accessibility for remote learners.
"Roman regularly breaks barriers in elevating students' voices and concerns," explains English Professor Nikola Hobbel.
Another nominator lauded Roman's empathy and commitment to supporting other students: "It is clear that Roman performs this work because of a genuine and deep-felt desire to improve the lives of students at HSU, especially students from minoritized groups."
A resourceful organizer and advocate dedicated to social justice, Roman's positive, can-do attitude reflects the University's mission and dedication to students' success.
Academic and Co-curricular Award Recipients
Outstanding Contribution to an Associated Students Program
Amanda Rachelle McDonald–Environmental Science & Management
Excellence in Academic Discipline for the College of Natural Resources & Sciences
Morgan Murphy–Geology
Excellence in Academic Discipline for the College of Professional Studies
Clarissa Readen–English
Excellence in Academic Discipline for the College of Arts, Humanities, & Social Sciences
Haley Huffaker–Child Development
Outstanding Contribution to a Campus Club, Program, or Organization
Adrienne Lu Banh–Psychology
Al Elpusan Award for Student Activism
Janaee' Nicole Sykes–Psychology
Award for Excellence in Community Service
Milagros Ortega–English
Award for Excellence in Intercollegiate Athletics
Sabine Postma–Zoology
Award for Excellence in Intercollegiate Sports Clubs
Daniel Joseph L Cea–Kinesiology
Award for Excellence in Sustainability
Klara Hernandez–Environmental Studies
Award for Excellence in Student Employment
Leslie Gonzalez Carrasco–Social Work
Patricia O. McConkey Outstanding Graduate Student Award
- Carisse B. Geronimo––Environmental Systems
- Cherilyn Paige Ashmead, Natural Resources
- Christopher Ramponi–English
- Lauren Elaine Proffitt–Sociology
- Karin Chao-Bushoven–Education
- Megan Rose Awwad–Environment & Community
––Wyeth Wunderlich–Geology
Outstanding Student Research Project
- Aneika J Perez–Environment & Community
- Chavela Riotutar–Kinesiology
- Dylan Roberts–Kinesiology
- Grace Umai Fillebrown–Child Development
- Jason Laugesen–Anthropology
- Joan Esquibel-Religious Studies
- Levi Basist–Kinesiology
- Mikayla Kia–Environmental Science & Management, International Studies
- Reed Switzer–Recreation Administration
- Samantha Cook–Natural Resources
- Shawn Lei–Recreation Administration
- Sophia Lemmo–Natural Resources
- Luke Pamelia Gauthier–Child Development