The HSU community chipped in again to provide holiday gifts for 134 local children in need.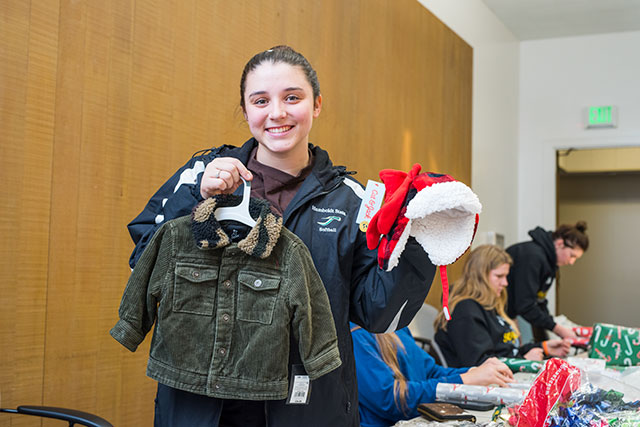 Winter Wishes, a program coordinated by Forever Humboldt, organized 91 sponsors, including alumni, staff, faculty, students, athletic teams, student clubs, and local community members. Sponsors purchased more than 400 gifts for local children connected to seven different local nonprofit organizations.
Dozens of HSU students, including the women's soccer and softball teams, wrapped the presents at get-togethers last week. This is a way that students can participate in the program.
Stephanie Lane, Alumni Outreach Lead, said the program has a large community impact.
"This is such a special program because it allows kids to feel heard and seen during the holidays," she says. "They ask for specific gifts and sponsors go shopping for exactly what they asked for. It's personalized and the sponsors enjoy knowing that they are supporting a specific child in our community."
Presents were delivered to the local nonprofit organizations on Dec. 19th and will be distributed to the children at their various Holiday celebrations.
"Winter Wishes would not be a success without the support of our generous HSU community," says Lane. "Thank you to all who were involved!"