Effective Jan. 1, the Norcal Small Business Development Center program will take over the leadership of the Northeastern SBDC territory to become the 5th largest SBDC network in the country.
The SBDC program is active in every U.S. state and territory and is funded in part by the U.S. Small Business Administration to provide free, one-on-one expert business advising and workshops to nearly 1 million small businesses annually. The overarching mission of the SBDC is to help small businesses launch and grow their enterprises in a way that benefits the local economy. Humboldt State University's Sponsored Programs Foundation has been the fiscal host of the Norcal SBDC Lead Center since 2006.
Since its founding, the HSU-based Norcal SBDC Lead Center has overseen the SBDC program for 13 Northern California counties along the coast from the Oregon border to Santa Cruz. In the last 11 years, through its free advising, the Norcal SBDC has counseled nearly 36,000 small businesses, assisted in the launch of more than 2,500 businesses and helped to create more than 18,000 jobs.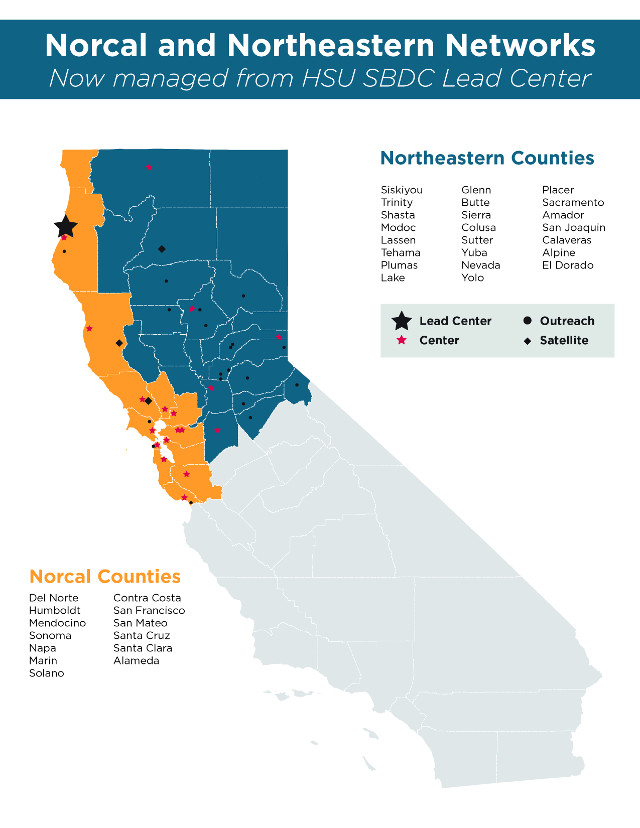 This new award from SBA of $1.36 million will expand that territory to all of Northern California to the Central Valley – a total of 36 counties. The new annual SBA budget of the combined Norcal and Northeastern SBDC program will be approximately $4.12 million. When leveraging state and local matching funds, that annual budget exceeds $8 million.
"To have an opportunity to take over the leadership of the Northeastern SBDC is a strong endorsement from the SBA that our HSU-based program is effective and making a difference in the lives of entrepreneurs in Northern California," said Norcal SBDC Director Kristin Johnson, adding that the bidding process for an SBDC territory is very competitive.
One asset to the Norcal SBDC program that Johnson said sets it apart, is the unparalleled support the Lead Center receives from HSU's Sponsored Programs Foundation.
"Diligence throughout the spending, accounting and auditing process when working with public funds are an incredible responsibility that Sponsored Programs takes really seriously," said HSU Interim Dean of Research and Sponsored Programs Director Steve Karp.
"What I really appreciate about the SBDC program though, is being able to point to the concrete economic impacts of what all those dollars and cents mean for the entrepreneurs the SBDC serves. The expansion of this program allows HSU to play an even bigger role in more of those successes in Northern California and we're all proud of it."
Heather Luzzi, the newly appointed District Director of the SBA Sacramento District Office made a congratulatory phone call to the Norcal Lead Center Monday afternoon.
"We are excited about this new partnership and look forward to a productive relationship," Luzzi said.
For more information on California Small Business Development Centers or to find a Small Business Development Center near you, go to www.californiasbdc.org.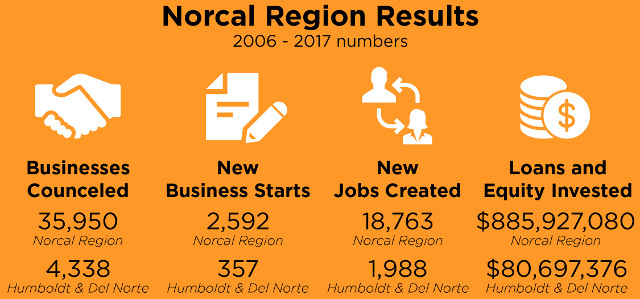 About the California SBDC Program
The California Small Business Development Center (SBDC) Program is the leader in providing small business owners and entrepreneurs with the tools and guidance needed to become successful. Local SBDCs provide comprehensive and expert guidance on issues such as start-up basics, financing, business and marketing plan development, procurement and government contracting. One-on-one advising is funded by the U.S. Small Business Administration and local partners and is offered at no cost. Consulting is supplemented by low-cost or free seminars and conferences. These services are delivered throughout California via an extensive network of 44 Small Business Development Centers. The California SBDC network serves more than 46,500 small business owners annually. Learn more by visiting: www.californiasbdc.org
About SBA
The U.S. Small Business Administration (SBA) was created in 1953 as an independent agency of the federal government to aid, counsel, assist and protect the interests of small business concerns, to preserve free competitive enterprise and to maintain and strengthen the overall economy of our nation. It recognizes that small business is critical to our economic recovery and strength, to building America's future, and to helping the United States compete in today's global marketplace. Although SBA has grown and evolved in the years since it was established in 1953, the bottom line mission remains the same. The SBA helps Americans start, build and grow businesses. Through an extensive network of field offices and partnerships with public and private organizations, SBA delivers its services to people throughout the United States, Puerto Rico, the U. S. Virgin Islands and Guam. www.sba.gov