A 2018 survey that counted more than half a million shorebirds on Humboldt Bay has led a conservation group to upgrade the bay's status as a critical habitat for dozens of species of migrating and regional shorebirds.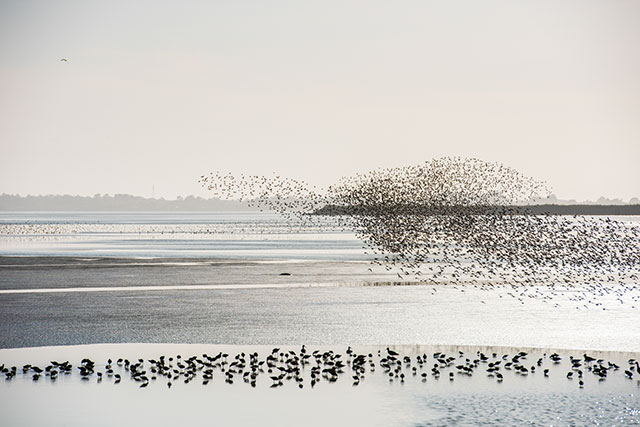 The Western Hemisphere Shorebird Reserve Network (WHSRN) identifies sites of importance to the conservation of shorebird species, and works to develop science and management tools to conserve the sites.
<Study Counts more than Half a Million Shorebirds, Highlighting Importance of Humboldt Bay | Humboldt Bay Upgrades WHSRN Status >>
Looking to get an updated understanding of bird activity on Humboldt Bay, HSU Wildlife Professor Mark Colwell conducted a six-week survey last spring, counting at least 500,000 birds around the bay. That window of time saw western sandpipers and other shorebirds stop at the bay during their migration from as far as Peru to Alaska.
Those staggering numbers led WHSRN to re-assess Humboldt Bay's status, and earlier this month the group announced that the body of water is now considered a "Site of Hemispheric Importance."
The designation can help improve conservation through education, good governance, restoration efforts, and other efforts.
Colwell and local citizen scientists, including many students, continue to conduct shorebird surveys on Humboldt Bay to gain a better understanding of how migrating and regional birds use the bay year-round.