Humboldt State University has launched an interdisciplinary institute for education and research in the marine and coastal sciences, which will expand understanding of a large and remote section of California coastline.
The Humboldt Marine and Coastal Sciences Institute, or HMCSI, will support collaborative research across the university and strengthen HSU's partnerships with local, state and federal agencies.
It will also build on the university's existing programs in Oceanography, Fisheries Biology, Marine Biology and Scientific Diving, as well as facilities—like the Telonicher Marine Lab in Trinidad and the R/V Coral Sea—that were developed out of a long-standing involvement with the marine environment.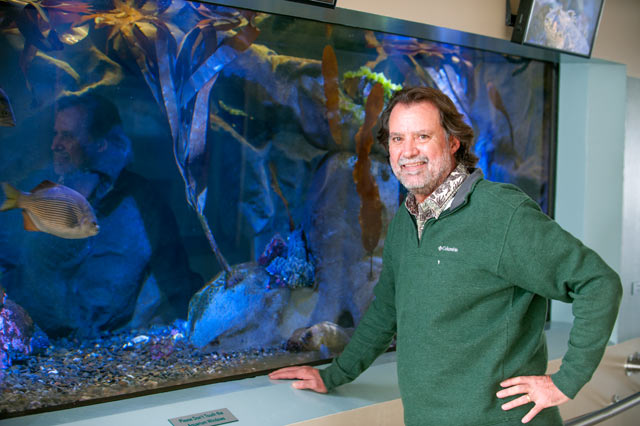 "Humboldt State has a long history of being actively involved in education and research pertaining to the marine environment," said Steve Smith, Dean of the College of Natural Resources and Sciences. "This institute provides a collaborative structure that will help move our efforts in education and research forward in an effective and meaningful way."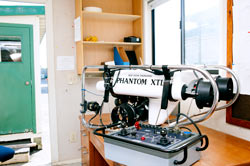 The institute will bring together the university's more than 20 marine scientists and faculty from a variety of disciplines—oceanography, marine biology, fisheries biology, geology, environmental planning and science, environmental engineering and politics—to study the social and ecological aspects of the North Coast. Potential partners include the National Oceanic and Atmospheric Administration, the U.S. Forest Service and local tribes.
"By providing an established forum, this institute makes HSU better poised to do collaborative science," said Sean Craig, an HSU Biology Professor involved in the institute's founding. "This kind of collaboration—this bringing together of experts from a variety disciplines—does not happen at many institutions."
The institute also helps fill a long-standing need for marine research on the North Coast. For years, HSU has been the only major institution with a coastal presence between Bodega Bay, Calif. and Coos Bay, Ore. "We are located on one of the least understood regions of the West Coast, making us uniquely poised to contribute to the study of marine sciences on our coast," said Brian Tissot, director of the Telonicher Marine Lab and the institute's recently-appointed director.
Possible institute activities include:
An ongoing lecture series in the marine sciences
Playing host to an annual Marine and Coastal Sciences Research Symposium
Supporting visiting researchers and educators
Developing interdisciplinary research projects
Providing research grants to students
Creation of the institute also responds to growing interest in the importance of marine sciences. Earlier this year, HSU faculty members were named as principal investigators on seven of ten grants awarded by the California Ocean Science Trust for marine research. The grants were part of the North Coast Marine Protected Area (MPA) Baseline Program, which supports the collection of ecological and socioeconomic information on beaches, reefs and ecosystems on the North Coast.
"The institute was instrumental in bringing together HSU researchers who were interested in pursuing significant grants from the North Coast Marine Protected Area Baseline Program," said fisheries biology professor Tim Mulligan, a recipient of one of the proposed grants. "If funded, results from these studies will allow for the better management of our marine resources on a regional, state, and coast-wide basis."
On campus, interest in HSU's marine studies programs continues to grow, with Biology consistently ranking among the university's largest majors. "Students recognize this as an exciting time for the marine sciences and interest in pursuing related studies is at an all-time high," HSU President Rollin Richmond wrote in a letter supporting the institute. To help meet growing demand, the university is launching an undergraduate degree in marine biology this fall.