The League of American Bicyclists recognized Humboldt State with a Bronze Bicycle Friendly Business (BFB) award, earning it a place alongside 1,266 bike-forward businesses and organizations across the country committed to building a more Bicycle Friendly America.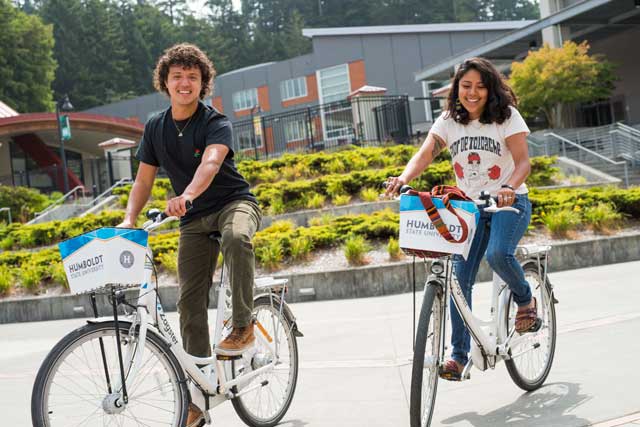 With the announcement of 83 new and renewing BFBs during National Bike Month, Humboldt State joins local businesses, government agencies, and Fortune 500 companies in all 50 states and Washington, D.C., in transforming the American workplace to be more welcoming to customers and employees who bike.
"With each new round of Bicycle Friendly Business awards, we see the movement to create a more Bicycle Friendly America for everyone growing. Forward-thinking organizations like Humboldt State are seeing the benefits of encouraging biking, whether it's happier employees, lower health care costs, or reaching new customers," says Executive Director Bill Nesper of the League of American Bicyclists.
Humboldt State encourages bicycling as an easy option for transportation and provides amenities such as Zagster. Launched in conjunction with the City of Arcata in 2017, the bike sharing program helps students, staff, and faculty get around campus and town while reducing their carbon footprint. HSU also offers the Bike Learning Center, a student-run toolkit and brain trust for all bike needs.
"We strive to build better infrastructure, and to educate and advocate for the safe use of bicycles as an affordable, healthy and sustainable form of transportation and recreation," says Morgan King, HSU's Climate Action Analyst. "Although HSU still has a long way to go until bicycling is an integral part of campus culture, we are honored to receive this designation and motivated to double our efforts."
To learn more about the BFB program, or to apply, visit the League online at www.bikeleague.org/business.
To learn more about building a Bicycle Friendly America, including the Bicycle Friendly Community, Bicycle Friendly State, Bicycle Friendly Business, and Bicycle Friendly University programs, visit bikeleague.org/BFA.
About The League of American Bicyclists
The League of American Bicyclists leads the national movement to create a Bicycle Friendly America for everyone. With a history dating to 1880, the League is committed to engaging diverse communities and building a powerful, unified voice for change around protecting and promoting bicyclists' rights. Learn more at www.bikeleague.org .