A Humboldt State University team in Bhutan has completed the first installation of Smart Grid devices called GridShares with the specific purpose of enabling rural electricity users to stabilize their own electricity grids and curb damaging brownouts.
Image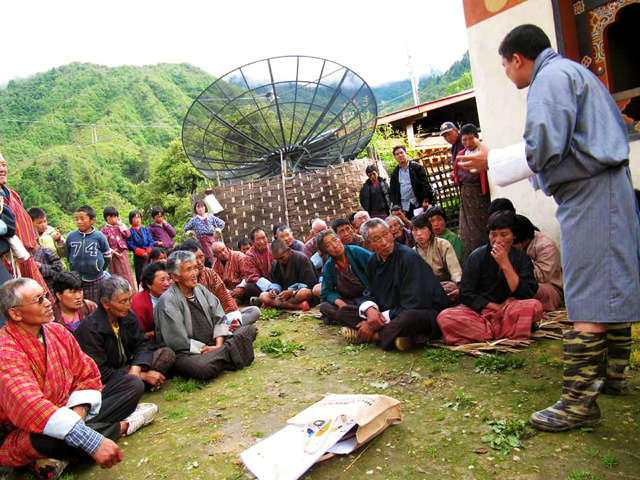 Humboldt State students and faculty advisors have put the low-cost, prototype system of their own design into operation in the village of Rukubji. They collaborated with local residents on-site, teamed with the Bhutan Power Corporation, Bhutan's Department of Energy, and the U.S. Environmental Protection Agency. Bhutan is a developing country in the Himalayas situated above India and below Tibet.
A Smart Grid delivers electricity via digital technology, which monitors usage and enables users to adjust their consumption, conserve energy, cut their utility costs and help ensure dependable current.
Members of Humboldt State's Renewable Energy Student Union won a $75,000 technology design award from the U.S. Environmental Protection Agency for the Bhutan project. It demonstrates the potential of smart grid technology at the village level. HSU students and faculty say it holds the promise of improving renewable energy mini-grids in thousands of communities worldwide.
"GridShare devices are useful wherever brownouts are an issue with mini-grids," says graduate student Meg Harper, who is pursuing a second undergraduate degree in Environmental Resources Engineering as well as a master's in Energy, Technology, and Policy. "The GridShare makes electrical power more reliable. It lets residents know when power is and isn't available and when you can use large appliances and when you can't. Now, Rukubji residents can avoid damaging their appliances."
Faculty Advisor Arne Jacobson, co-director of HSU's Schatz Energy Research Center and Professor of Environmental Resources Engineering, says, "The students and our partners in Bhutan have done a great job of developing a creative solution to a challenging problem. One key aspect of the solution is a multi-disciplinary approach that combines technical innovation with education and the social dimensions of energy use."
GridShare encourages electrical load shifting with a three-pronged concept: education, indication, and enforcement.
The education prong pinpointed why Rukubji was experiencing brownouts and assisted the village in addressing the challenge. The Humboldt State team created a series of bilingual posters and pamphlets to help Rukubji residents learn how to work with GridShares and better manage their limited electric power.
Image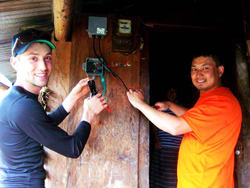 The team led a student education program in Rukubji's fourth, fifth and sixth grades about brownouts and load shifting. It also did community outreach, briefing residents from more than 80 households and businesses about the installations, explaining the GridShare program and responding to questions and concerns.
"As we were installing the GridShares, people in Rukubji gained a broader understanding of how electricity works," said HSU Environmental Resources Engineering alum Kyle Palmer ('07). "As we explained the system, they came to realize that brownouts are not caused by the weather. They recognized that electricity is a finite resource. It made people aware that they can't all use a lot of electricity all at the same time."
Both Palmer and fellow alum Tom Quetchenbach ('11, Environmental Resources Engineering master's degree with the GridShare project) spoke highly of Rukubji residents' willingness to cooperate and the unstinting hospitality they extend to visitors. In Palmer's words, "There is a real spirit of social sacrifice, to pitch in and share the grid."
As for hospitality, Quetchenbach said he was impressed by it throughout the team's stay. "Whenever you went into a house, you were served a cup of tea. Sometimes we had more than 10 cups during the course of a day!"
GridShare's "indication" prong literally signals the state of the grid to the consumer. A display in each resident's kitchen activates a green LED light when enough electricity is available for high-power appliances; a red one signals that residents must limit the use of high-power appliances such as rice cookers, though they can continue to use low-power devices such as lights, radios, televisions and mobile phone chargers.
In its "enforcement function," GridShare blocks the use of large appliances during brownouts. Rukubji residents are thereby encouraged to shift their use of high-power appliances such as water boilers to periods of low demand. That helps stem disruptive brownouts during peak hours of usage.
The Humboldt State team traveled to Bhutan in June to install GridShares in each home in Rukubji. Students will continue to monitor the devices for at least six months. They will evaluate GridShares' capacity to stabilize the electric system and also assess residents' satisfaction with the devices.
This summer's phase of the pilot project is one part of a multi-year effort, not only with the village of Rukubji, but also the surrounding communities of Bumiloo, Sangdo, and Tsenpokto.
Chhejay Wangdi, manager of the Bhutan Power Corporation's Electricity Service Division, says Gridshares are particularly beneficial because "rather than managing grids with rolling blackouts, all houses can now keep their lights on, even in periods of high demand. This makes our customers happy indeed."
Image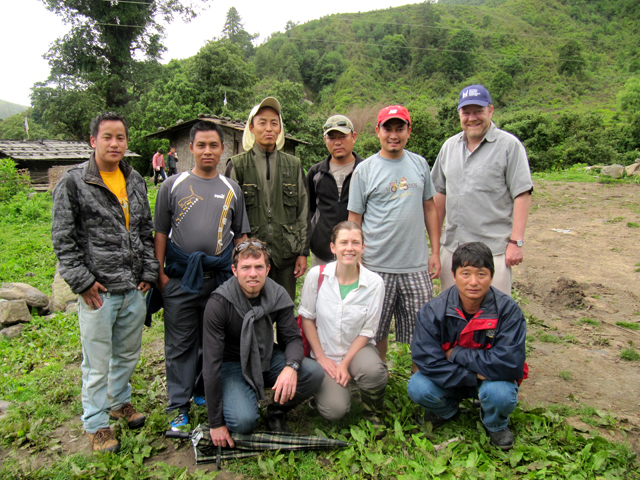 Front row, left to right: Nathan Chase ('11); Meg Harper (undergraduate and master's candidate); Sangay Phuntsho (BPC electrician). Back row, left to right: Kuenley Dorji (BPC engineer); Sonam (BPC driver); Chhejay Wangdi (manager of BPC Electrical Services Division, Wangdue Phodrang District); Phuntsho (BPC electrician); Chhimi Dorji (DOE-Bhutan engineer and HSU alum ('10); HSU Professor of Environmental Resources Engineering Arne Jacobson.