The Department of Athletics at Humboldt State University will be recognizing former head rowing coach Robin Meiggs at halftime of the Lumberjacks' women's basketball game vs. Sonoma State on Thursday, November 21. Tip-off is scheduled for 5:30 p.m. at Lumberjack Arena at Humboldt State.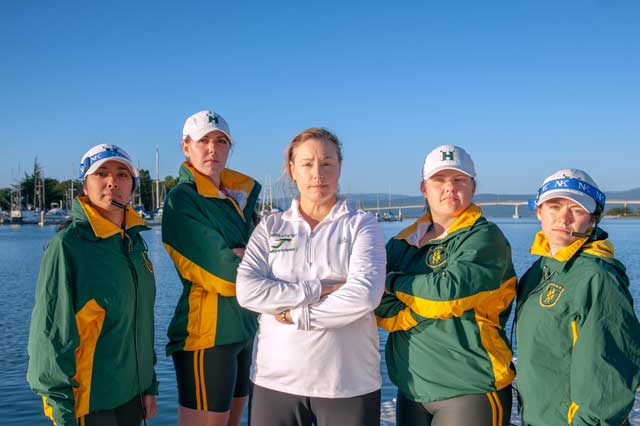 Coach Meiggs enjoyed a remarkable career at Humboldt State, and is recognized as one of the University's most successful coaches. She helped grow the rowing program from a club sport into a Division II powerhouse, and served as its first and only head coach. Over the years, the team won two national championships and its student-athletes excelled academically.
Under Meiggs, HSU's rowing teams won the NCAA Division II National Championships in 2012 and 2014, and have finished third in the nation or better five times (2004, 2011, 2012, 2014, and 2015). She was named Collegiate Rowing Coaches Association "Coach of the Year" three times.
In her 27 years at Humboldt, Meiggs was a member of the University Senate and served as Union President and Faculty Rights Chair of the HSU chapter of the California Faculty Association. She served on the NCAA Committee on Competitive Safeguards and Medical Aspects of Sports and the NCAA's Regional Advisory Committee and National Advisory Committee.
During her tenure as head coach, Meiggs, who also taught Kinesiology courses, has supported her teams and has been deeply committed to their academic success. Her program has a 93 percent graduation rate. She has also been instrumental in fundraising efforts for the Athletics Department.
Please help us celebrate Robin Meiggs. There will be a variety of events happening in and around the halftime ceremony. For more information, please contact Assistant Rowing Coach Ashley Donnell at ald29@humboldt.edu.