In partnership with Humboldt Bay Fire, Humboldt State University will launch a Public Safety Dive Training program this August to train rescue scuba divers in deep water recovery.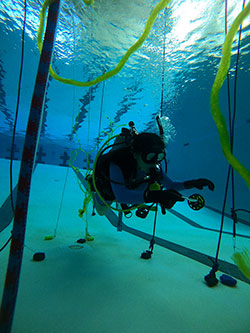 The first cohort of volunteer trainees are six HSU faculty members and instructors from the Department of Kinesiology & Recreation Administration's Scientific Diving program. The only training of its kind on the North Coast, emergency responders from Shasta to Mendocino will be invited to participate in future certification events.
After completing the 50-hour training led by the National Association of Underwater Instructors (NAUI) this August, the cohort will be certified as Public Safety Divers for the Humboldt Bay Fire Dive Team, filling a vital need in emergency rescue and recovery services on the North Coast.
"Humboldt County has been without a formal dive rescue team since the 1990s," explains Amy Conlin, a communications specialist for Humboldt Bay Fire. "After the tragic death of 19-year-old Nicholas Brunner in Trinidad last year, where volunteer divers from HSU recovered and returned the kayaker's body to his family, the need for a rescue dive team became undeniably apparent."
In the wake of the 2020 tragedy, the Brunner family organized a Go Fund Me campaign to support the specialized dive training. To date, $14,874 has been raised; ongoing donations will be used to fund equipment and future training, says Conlin. The Brunner family also established the Nicolas Brunner Memorial Dive Award to support students in their dive education at HSU.
Richard Alvarez is a lecturer in HSU's Department of Kinesiology & Recreation Administration as well as the University's Diving Safety Officer. He explains that the cost of specialized rescue dive training has been a barrier to re-establishing a county-wide dive team.
"The generosity of the Brunner family and community donations have made this possible," says Alvarez.
The long-term goal is for the newly certified Public Safety Divers to lead annual Public Safety Dive training for regional first responders (police, firefighters, and Coast Guard) and students.
"The HSU diving faculty and instructors have been a big push in making this a reality," says Alvarez. All six divers will provide their own equipment; HSU will provide the facility, tank filling, faculty expertise, and gear repair.
The North Coast is home to numerous high-risk beaches, lagoons, bays, and rivers that in certain conditions can be treacherous. Alvarez explains that the training will be tailored to the local environment, which requires a higher risk category of diving.
"In a rescue and recovery scenario, divers are often entering hazardous water with low visibility and barriers like leaking fluids and sharp edges from submerged vehicles," says Alvarez. "We'll be training divers to have the skills and knowledge to approach dangerous situations safely."
Alvarez and his fellow divers are grateful for the collaboration with Humboldt Bay Fire, local agencies, and the Brunner family to launch the new training program.
"Deep water recovery can be so important to a family after a tragic loss of life," says Alvarez. "We hope to never be called on but we will be prepared and trained, ready to serve our community."
This story was originally published June 28, 2021.