Humboldt State's student-lead Take Back The Tap campaign has unveiled two hydration stations, offering the campus filtered water in sanitary conditions, while reducing dependency on disposable water bottles.
Image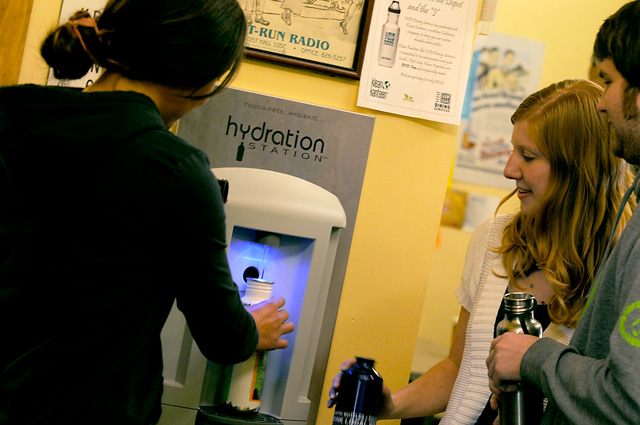 The two stations are located in the HSU Depot and in the Kinesiology & Athletics Building.
"With the hydration stations we are trying to encourage people to drink local tap water and to liberate students, staff and faculty from bottled water," said Sarah Schneider of HSU Takes Back the Tap. "They give people the option to drink free filtered, drinking water."
The hydration stations are a hygienic, hands-free filtered drinking fountain operated by sensor where people can fill their reusable containers. The stations are meant to improve the accessibility of tap water to students, staff and faculty while helping to overcome the negative perceptions people have about tap water.
"While the water quality at HSU is known to be very high, often the aesthetic qualities of the water from individual drinking fountains is less than desirable, " said Natalynne DeLapp, co-founder of HSU Takes Back the Tap.
One hydration station was funded by a grant from the Humboldt State University Energy Independence Fund (HEIF), the other station was donated by manufacturer of the hydration stations.
Humboldt State University is not alone its endeavor. San Diego State University and the Portland State University campus are two universities that have already installed hydration stations.
"We're trying to bring the appeal back to drinking tap water and eliminate some of the negative perceptions," said Schneider.
In addition to the hydration stations, HSU Takes Back The Tap is in the early stages of planning a Bottle-Free Day to bring awareness to the negative effects of bottled water and enlighten people about the availability of quality drinking water.
The goal of the campaign is to reduce bottled water sales by 20 percent within three years, which is expected to produce a savings of 3,202 kg of carbon dioxide emissions.
"The real issue," says DeLapp, "are the hidden environmental and social costs of bottled water, which include extracting raw material to make the bottles, bottling and shipping the water, and water privatization. Those factors make tap water the clear choice in my mind."