In collaboration with Humboldt State University and community partners, the Humboldt Tenant-Landlord Collaboration (HTLC) has launched a new educational program designed to promote best practices for tenants and landlords.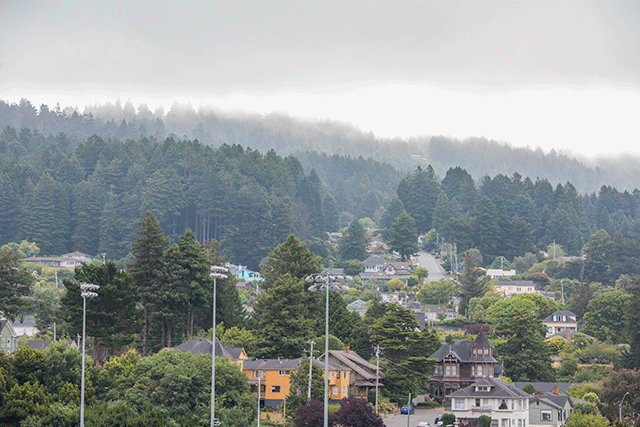 Led by HSU's Off-Campus Housing Coordinator, Chant'e Catt, the program will help students, renters, and property owners build positive relationships. Individuals who complete the program will earn HTLC's "Good Neighbor" certificate, showing their commitment to improving community relations around housing across Humboldt County.
"We created the HTLC to pinpoint solutions, not problems, to our local housing crisis," says Catt. "Our hope is to relieve pressure on a complex issue that intersects with racial inequity, poverty, and other social challenges."
Hired by HSU in 2018, Catt's position as a community housing advocate was the first of its kind in the 23-campus California State University system. Coupled with Catt's tenacity, her ability to bring together diverse organizations to improve the local rental climate is a result of HSU's priority on students' basic needs, Catt explains.
>>Related: HSU Receives $640,000 for Basic Needs Services<<
"We told the University that students are struggling to keep themselves fed and housed and they listened," says Catt, who graduated from HSU with her Master of Social Work degree in 2020.
She has worked closely with Social Work Professor Jen Maguire whose groundbreaking 2018 research found that over 10% of California State University students had experienced homelessness and 19% of HSU students had experienced housing insecurity— a lack of affordable, safe, and stable housing—at least once in the past year.
While the housing crisis is a widespread crisis across California, and intensified by the pandemic, Catt and her team are focused on reducing the housing barriers that students face in Humboldt County.
"It's the same issues you see across the country," says Catt. "People without an income or good credit are left with almost no options." Even worse, she explains that many report experiencing discrimination and profiling in the application process.
To combat a state problem with local solutions, HTLC's Good Neighbor program will educate prospective tenants and landlords about the entire process, from screening tenants to paying utility bills to implicit bias.
Their video topics include mold and pest prevention, renting with emotional support animals, and party etiquette, and learning modules include Finances, Community Resources, and Equity and Inclusion.
Overall, Catt stresses that HTLC's educational materials are intended to educate, not point fingers.
"The HTLC is a town-and-gown effort that bridges the University to the community," says Catt. "We want tenants to understand their responsibilities and landlords to feel secure in their investment."
Eventually, HTLC hopes that tenants will use their Good Neighbor certification to secure affordable housing, much like work experience on a resume. More than a dozen local landlords have already opted-in and two local property management companies have committed to offering application discounts to certified tenants.
While the housing crisis is inextricably linked to systemic inequities nationwide, Humboldt's rural proximity adds a layer of challenge for students from out of the area. Catt regularly fields calls from students and parents who can't physically be in the area to view potential rental properties. Despite the limitations presented by COVID-19, many landlords are still resistant to virtual showings. To reduce this barrier, Catt often visits prospective properties and meets landlords while Zooming with students.
"We also made a video about how to do a walk-through," says Catt. She explains that simple measures, such as documenting damages on move-in and quickly responding to maintenance issues, can go a long way in preventing strife between tenants and landlords.
The HTLC program consists of 32 informational videos and 10 learning modules, accessible and available in Spanish, all designed to foster understanding and good will between tenants and landlords.
"We want to humanize housing for everyone," says Catt. "Education is the key."