_The following was provided by the CSU Chancellor's Office._ TO: All CSU Employees FROM: Gail Brooks, Vice Chancellor, Human Resources RE: Public Employee Pension Reform Act of 2012 The Public Employee Pension Reform Act of 2012 was signed by the governor today and will become law on January 1, 2013. As you can imagine, there are many complexities to this legislation and we are diligently working with CalPERS on the interpretation of the bill (AB 340) as it pertains to CSU employees. We understand there are many questions regarding the impact of this bill and will provide you with information as quickly as possible. Listed below are some highlights of AB 340.
Impact to existing and new (hired on or after 1-1-13) employees:
Airtime – prohibits purchases of nonqualified service; however, applications received by CalPERS prior to 1-1-13 would still be eligible.
Post-retirement employment- requires a 180-day "sit-out" period before a retiree could return to work unless the appointment is:
o Necessary to fill a critically needed position and has been approved by a governing body in a public meeting
o Retiree is eligible to participate in the Faculty Early Retirement Program (

FERP

)
Forfeit pension benefits—felony conviction committed within the scope of official duties
Retroactive pension increases—prohibit retroactive pension benefit changes that apply to service performed prior to the enhancement
Impact to employees newly hired on or after 1-1-13:
Retirement contribution–employee will be responsible for contributing 50% of the pension contribution rate calculated by CalPERS that is used to fund the employee's retirement benefit. The employer will pay the remaining 50%.
New cap on compensation that can be applied to benefit formula—limits amount of compensation used to calculate the retirement benefit equal to the Social Security wage index limit ($110, 000 for 2012). This amount is adjusted annually based on the Consumer Price Index (

CPI

).
Image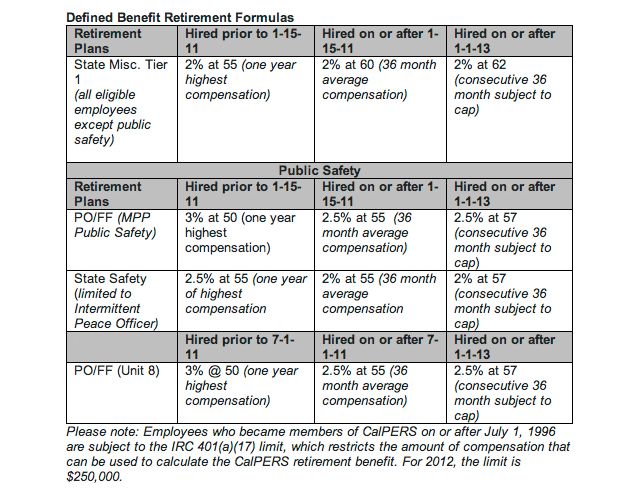 There is other language in the bill that may impact the CSU. We are working to identify those provisions and will provide you with periodic updates. In addition, we will be establishing a Pension Reform FAQ that will be available soon. In the meantime, you can forward your questions to BenefitsInsider@calstate.edu.
You can track the Pension Reform Plan on the governor's website or on the CalPERS website.